Chipotle has finally revealed what makes their signature guac so amazing, and it seems that it has more to do with being choosey about ingredients than the actual step-by-step process. Even though the guac costs extra, I always take them up on it. In fact, I judge the quality of a Mexican restaurant on the quality of the guac! It has to be fresh, cool and delicious to offset all those bold flavors. That's why I'm so excited about this Chipotle Guacamole Recipe release!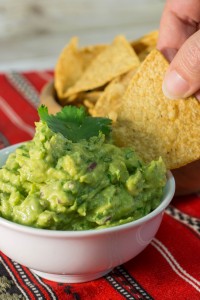 According to Chipotle, the perfect avocado should "feel squishy yet firm (like the palm of your hand), and be a nice dark green color on the inside." Good to know!
As huge Chipotle fans (just check out our Chipotle-style Burrito Bowl if you have any doubts to our Chipot-loyalty), we're pretty ecstatic to have their official guacamole recipe. No longer will our chips at home go without it!
Chipotle released their recipe at the perfect time, when everyone's getting ready for their Cinco de Mayo fiestas. If you needed one last recipe to make your Cinco de Mayo menu perfect, you're all set now.
Here's the super-simple recipe for Chipotle's famous guacamole:
Chipotle Guacamole Recipe
INGREDIENTS
2 ripe Hass avocados
2 tsp lime juice
2 tbsp cilantro (chopped)
1/4 cup red onion (finely chopped)
1/2 jalapeño, including seeds (finely chopped)
1/4 tsp kosher salt
HOW TO DO IT:
1. Choose the right avocado. It should feel squishy yet firm (like the palm of your hand), and be a nice dark green color on the inside.
2. Cut the avocado in half and the remove the pit (carefully!)
3. Scoop the avocados and place in a medium bowl.
4. Toss and coat with lime juice.
5. Add the salt and using a fork or potato masher, mash until a smooth consistency is achieved.
6. Fold in the remaining ingredients and mix well.
7. Taste the guacamole (over and over) and adjust seasoning if necessary.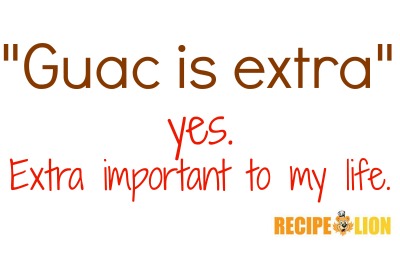 P.S. If you MUST get your fix, check out our list of Chipotle-inspired recipes to make at home.
Will you make Chipotle guacamole?
Latest posts by RecipeChatter
(see all)