How to Make Homemade Cheese
Here at AllFreeCopycatRecipes.com we love anything and everything homemade! Making homemade cheese seemed like a daunting task, but it turned out to be an incredibly fun and delicious activity. We made fresh mozzarella cheese using the Grow & Make Artisan Cheese Making Kit. It took us less than an hour from start to finish and it was amazing to watch process.
If you are making mozzarella without the handy kit, worry not, you can buy these ingredients online or in specialty grocer stores/spice shops. This recipe comes from Grow & Make, a company specializing in DIY kits anyone can use. We highly recommend buying their cheese making kit since it has everything you will need that may be difficult to find.
Ingredients:
1/4 tablet rennet – This is used for making all kinds of cheeses. It is sold in liquid and tablet form.
1 gallon whole milk
1 1/2 teaspoons citric acid
Salt
You Will Need:
1 Large, 6 quart pot
Candy thermometer
1 Large slotted spoon
1 Microwaveable bowl
Rubber gloves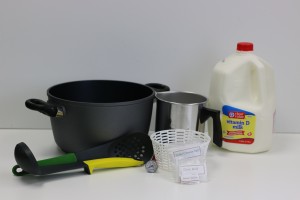 Instructions:
Dissolve the 1/4 tablet of rennet in one cup of cool water. Stir and set aside.
Mix 1 1/2 teaspoons of citric aside with one cup of cool water. Stir until dissolved and set aside.
Pour 1 gallon of milk into the large pot. Pour in the citric acid and stir thoroughly.
Heat until 90 degrees F, stirring occasionally to prevent scorching.
Slowly stir in the rennet solution with a gentle up and down motion for approximately 30 seconds. Continue to heat until 105 degrees F.
Your curds could already show clear signs of coagulation – curds would look like shiny yogurt, you'd see separation between curds and whey and the curds would pull from the sides of the pot. If so, stir very gently for another minute and turn off the heat.

Ladle your curds into a heat-resistant bowl. At this point, you can cover and refrigerate the curds for stretching later of move on to heating and stretching the cheese.
Heat the bowl of curds in the microwave-safe bowl for one minute. Gently use a spoon to fold the curds over several times and evenly distribute the heat.
Drain off any whey. Microwave for another 30 seconds. Drain again, and knead the curd gently (wearing rubber gloves) – try stretching. It must be 135 degrees F to stretch proper;y. If it isn't hot enough, microwave for another 30 seconds.
Add 1 teaspoon of salt and work into the cheese by stretching and folding, stretching, and folding. The more you work the curd, the firmer the cheese will be.
Stretch the cheese until it is smooth. Shape into a ball, log, or anything else! This mozzarella is best eaten immediately, but you can store it covered. Do not store in water or whey.
Voila!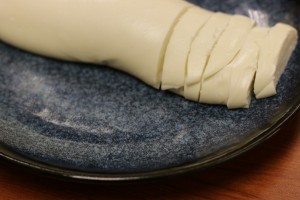 The Make and Grow Artisan Cheese Making Kit! This kit comes complete with everything you need in order to make 5 different kinds of cheese. Read our full review here. This month at AllFreeCopycatRecipes.com we are giving away (1) Artisan Cheese Making Kit to (1) lucky winner. You have until October 19th at midnight to enter.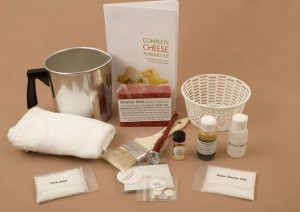 What's your favorite kind of cheese?
Latest posts by AllFreeCopycatRecipes
(see all)