No other summer desserts can compare to anything made with some sunshiny lemon. There is just something about the fresh tartness that only a little yellow lemon can bring to the dessert table. Whether it takes the form of a moist bread or a creamy pudding, adding lemon to anything immediately lightens up the flavor.
However, the fan favorite of all lemon desserts is definitely the lemon bar. They're so easy to create and they're always one of the first things to go at a picnic or family event. No matter what the occasion, the rich, decadent taste of a lemon bar is always a hit. Of course, in the summertime, even the most ordinary of days is a reason to celebrate, so set aside an hour and whip up a batch of these delicious lemon bars for the whole family.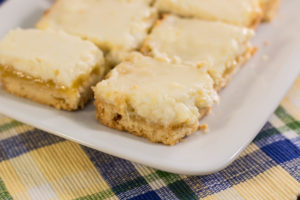 Ingredients
1 1/2 cup flour
1/2 cup powdered sugar
1/4 teaspoon salt
6 ounces unsalted butter, cold and cut into cubes
1 jar lemon curd
2 8 ounce packages cream cheese, softened
1/2 cup sugar
zest from 1 1/2 lemons
juice from 2 lemons
1 teaspoon vanilla
Instructions
Heat oven to 350 degrees F. Butter a 9 x 13-inch baking dish.
For the shortbread layer, whisk together flour, sugar, salt. Cut butter into the flour mixture. Press into the baking dish.
Bake 15 to 20 minutes until slightly golden. Set aside to cool.
For the lemon curd layer, spread lemon curd evenly over the cooled shortbread layer. Let set.
Prepare the cream cheese layer. Beat the cream cheese, sugar, and vanilla until creamy. Add the lemon zest and juice.
Carefully spread the cream cheese layer over the shortbread and lemon curd layer.
Bake until the top is set about 25 to 30 minutes.
Remove from oven and let sit at room temperature for 45 minutes.
Refrigerate for 2-2 ½  hours before cutting into bars.
Learn how to make lemon curd here.
6 More Lemon Dessert Recipes
Mix it up with any of these six more lemon dessert recipes! From a fluffy lemon meringue dessert to a cool, creamy semifreddo, these desserts are perfect for a summer in the sun.
What is your favorite thing to make with lemons? Comment below!
Latest posts by AllFreeCopycatRecipes
(see all)