I'll be the first to admit that polenta is one of those dishes that has always intimidated me as a novice cook. It just sounds fancy and difficult to make and totally out of my comfort zone. Before last Tuesday, I didn't even fully know what polenta was, to be honest. But last Tuesday was a pretty life-changing experience for me, at least in terms of cooking. What happened last Tuesday, you ask?  Well, my colleague Blair and I attended the first in a three-part cooking class called "How To Cook Everything," put on by the kitchenware store Sur La Table. Yes, the name of the class was a bit daunting at first, but after just one session we already learned so many useful cooking tips and tricks that even though we're being challenged, it's totally worth it. First up on the list of challenges for us was this yummy, restaurant-worthy polenta dish that I never in my wildest dreams would have thought I could have made… but I did!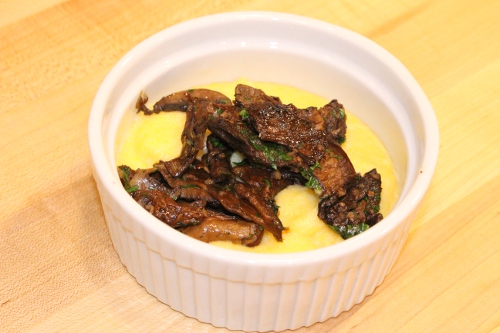 Polenta, I quickly learned, is just cornmeal boiled into a porridge-like dish that's rich, creamy, buttery and all kinds of delicious!  Best of all, this side dish cooks up much faster than many other grain-based sides like rice and potatoes. In fact, depending on what kind of polenta you buy, yours could be done cooking in just 15 minutes… now that's my kind of side!  Once our instructor showed us how simple it was to cook polenta, and once I tasted how awesome it was and how much it reminded me of delicious down-home Southern cooking, I realized that this was a dish I could easily add to my weeknight repertoire. It goes great with just about any main dish, from chicken to pork to steak… you name it!
Still think polenta is scary?  Let me show you how simple it was to make:
How to Make Polenta, The Easy Way!
Polenta With Sauteed Wild Mushrooms
*Recipe Courtesy of How To Cook Everything The Basics, by Mark Bittman
Yield: 4 Servings
Ingredients:
1/2 cup (about 1/2-ounce) dried porcini mushrooms
2 cups boiling water
1/4 cup olive oil
1 pound fresh button or cremini mushrooms, sliced
Kosher salt and freshly ground black pepper
1/4 cup red wine
1 tablespoon garlic, minced
1/2 cup fresh parsley, chopped
1 cup medium or coarse polenta
1/2 cup milk, preferably whole
1 tablespoon unsalted butter
1/2 cup Parmesan cheese, freshly grated
Instructions:
1) Put the dried mushrooms in a medium bowl and pour in the boiling water. Press them down into the water now and then until they are soft, anywhere from 5 to 30 minutes depending on how dry they were. When it's time to cook them, lift them out of the water with your hands or a slotted spoon and chop them roughly. Reserve the soaking water (this is great to use later for cooking — makes a great stock for mushroom soup!).
2) Put the oil in a large skillet over medium heat. When it's hot, add the soaked dried and fresh mushrooms and sprinkle with salt and pepper. Cook, stirring occasionally, until the mushrooms are tender and have released all their liquid, about 10-15 minutes. Tip for slicing your fresh mushrooms: curve your fingers holding the mushroom slightly underneath the mushroom so you protect them from the knife blade. This goes for all chopping and dicing… it's a great new knife skill we learned in the class!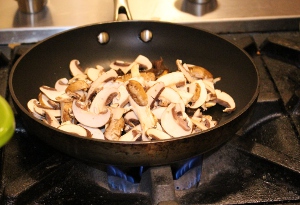 3) Add the wine and let it bubble away for 1 minute, then stir in the garlic, 1/4 cup of the parsley, and 1 cup of the reserved soaking water. Cook until the liquid thickens a bit, another 2-3 minutes, then taste, adjust the seasoning and turn off the heat under the skillet.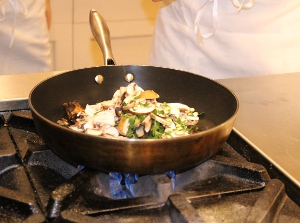 4) Put the polenta in a medium pot with 1 cup water and whisk to form a smooth slurry. We learned that using a whisk is best because it gets rid of the lumps in the mixture the easiest.  Whisk in the milk and a large pinch of salt and set the pot over medium-high heat. Heat until the mixture boils, then lower the heat to medium and cook, whisking frequently and adding more water a little at a time to prevent lumps and keep the mixture somewhat soupy. Expect to add another 2 1/2 to 3 1/2 cups of water before the polenta is ready. The polenta will be done in 15-30 minutes, depending on the grind (the larger the grind, the longer it will take to cook). The mixture will be thick and creamy, with just a little grittiness, and the mixture will pull away from the sides of the pan when you stir. This was a very helpful measurement tool for me… I used the whisk to drag through the mixture and if it ran back together, I knew it was the right consistency. If it didn't run back together, I knew I needed to add more liquid!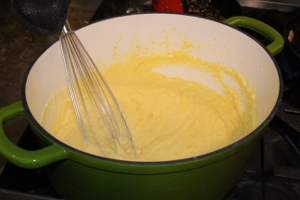 5) When the polenta is done, turn the heat under the mushrooms to medium to warm them quickly.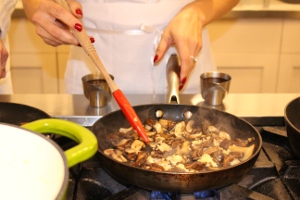 6) Stir the butter and cheese into the polenta, then taste and adjust the seasoning.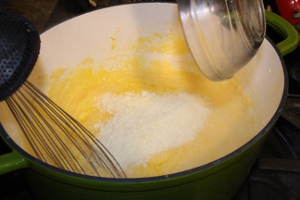 7) Serve the polenta topped with the mushrooms and garnished with the remaining 1/4 cup parsley.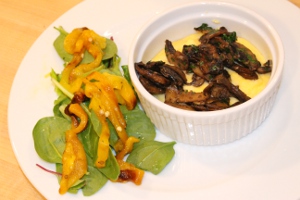 See how easy that was?  Nothing to be scared of anymore!  Now you can cook up a rich, creamy and delicious polenta side dish any time you want, and your family will love you for it.  Trust me: if I can do it, you can do it!
If you're wondering how to make the yummy salad pictured with the polenta above, you can get the how-to for that right here. We learned how to make delicious roasted peppers and 4 different vinaigrette salad dressings in our class, and of course we're going to share those recipes with you too!  Don't miss out… they're so good!
Before I let you go cook up your own polenta, I have to share a few other tips that I learned in our cooking class.  Just in case you're wondering…
Polenta 101… The Essentials:
Avoid using instant polenta or the cornmeal ground for baking. The results will not be the same.
The longer the grind of your polenta, the longer it will take to cook, as a general rule.
Like risotto, polenta requires attention… don't leave the stove unattended for more than a minute or two!  Taste your polenta frequently to check for done-ness.
You know your polenta is done when it starts to "pop".
When cooking your garlic, it should only take 30 seconds to brown if it's minced properly.
Save money by buying Parmesan cheese in bulk blocks and putting it in the food processor to create your own fresh, grated Parmesan cheese.
Always stir your polenta with a wire whisk and not a spoon… this helps break up clumps in your mixture.
Have you ever made polenta before?  How did you serve yours?
Latest posts by RecipeLion
(see all)