One of the great things about fall (at least for me) is adding pumpkin flavor to absolutely everything that I make. Cookies, cakes, pies… You name it, I probably have found or want to find a way to add a bit of pumpkin to it.
Last Friday night, I was trying to make a list of all of the fall desserts that I wanted to make the next few weeks. I noticed that quite a few called for canned pumpkin or pumpkin puree (they're both the same thing). That got me thinking. If I'm making a ton of treats that all use the same ingredient, it may be more cost-effective to make my own pumpkin puree rather than buying the canned stuff at the store.
Now, don't get me wrong. I am all about convenience and saving time. However, I figured that using fresh, homemade pumpkin puree may be the easiest way to bake everything I want to bake. Plus, we were going to be taking our food site bonding trip to Didier Farms in Lincolnshire, Illinois this past Monday. What better place to buy a baking pumpkin than a pumpkin patch? It was destiny. I knew I had to learn how to make pumpkin puree.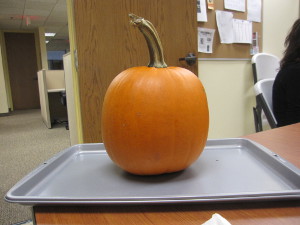 I do have to admit that I was a bit intimidated at first by the idea of making my own pumpkin puree. I had never done anything like that before. Sure, I've carved a pumpkin, but I've never actually used one to make something edible!
After using our in-office test kitchen to make pumpkin puree for the very first time in my life, I can honestly say that it's much easier than I ever thought it would be. Don't believe me? Then follow along as I show you how to make pumpkin puree in your very own kitchen.
Step One: Buy your pumpkin.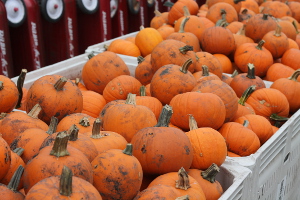 The nice people who work at Didier Farms told me that baking pumpkins work best for making pumpkin puree. They're not teeny tiny pumpkins, but they also aren't as large as the ones you want to carve for Halloween. After further research, I found out that a four to six pound baking pumpkin will yield about two to two and a half pounds of pumpkin puree. The pumpkin I ended up buying at Didier Farms was about five pounds.
Note: Don't feel like you have to visit a pumpkin patch to buy a baking pumpkin. You can definitely pick them up at your local grocery store or market.

Step Two: Clean and Cut Up Your Pumpkin.
Just a quick scrub in the sink should do it. If you get your pumpkin at a pumpkin patch, they may have wash basins on the property for you to wash off your dirty pumpkin. After your pumpkin is nice and clean, preheat your oven to 350 degrees F. Then, you'll want to start cutting it up into manageable-sized wedges. I suggest slicing off one side of your pumpkin so that you can then lay it flat and cut the pumpkin in half horizontally. As you cut up your pumpkin, you'll want to remove all of the seeds and stringy "guts" because they won't taste all that good in your puree. You can save the seeds to bake with them later, or just toss them.
Step Three: Place Pumpkin Wedges on Baking Sheet and Roast.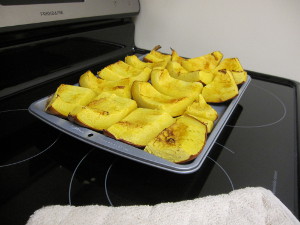 Place all of your pumpkin wedges flesh-side up on a baking sheet. I only had one baking sheet to work with in our test kitchen, so if your baking sheet gets a little bit cramped feel free to grab another. Then, place your baking sheet(s) in the oven for about an hour, or until you wedges look nice and roasted (see the photo for reference). You'll know they're done when you can easily poke a fork into them.
Step Four: Remove from Oven, Let Cool, and Then Remove Skin.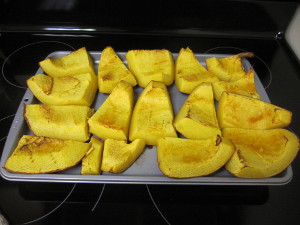 I waited about an hour for my pumpkin pieces to cool off, but you probably don't need to wait that long. After roasting in your oven, the skin becomes pretty easy to remove. If you can't just pull it off cleanly, use a small paring knife to peel it off.
Step Five: Puree Pumpkin Pieces in a Food Processor or Blender.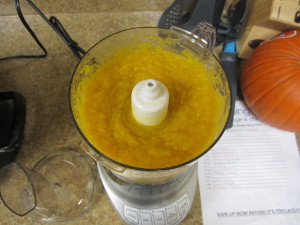 Blend or puree your pumpkin pieces until they're smooth. If you'd like, you can use a strainer to try to take out any extra stringy pieces, but I found that my food processor pureed everything perfectly so I got to skip that step. After you're done pureeing your pumpkin, put it in a container or small plastic baggies until you're ready to use it! If stored in the freezer, your puree will probably last for about six to eight months. If you store it in the refrigerator, it will probably last for a week or so.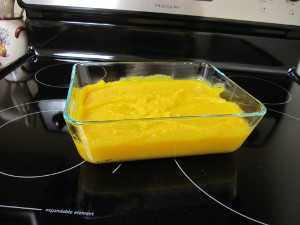 That's it. That's all there is to learning
how to make pumpkin puree
. So, what are you waiting for? Get pureeing and baking!
What's your favorite recipe to make with canned pumpkin or pumpkin puree?
Latest posts by TheBestDessertRecipes
(see all)