In case you missed it, last week we journeyed out to a local pumpkin farm and had way too much fun exploring all of the different kinds of fresh produce they had. We came back with more than our fair share of pumpkins, which was okay with me because I've been gathering delicious pumpkin recipes since the start of summer (fall's my favorite season, can you really blame me?!) and have been waiting for pumpkins to come in season so I could start baking and cooking!
The first recipe on my must-make list for fall was this 3 Sisters Soup recipe, which has intrigued me since I first came across it last autumn. I didn't know what the name referred to, so I decided to look it up. Turns out that the "three sisters" are actually ingredients in the soup: corn, squash and beans. These three grow together naturally in the fields and according to some traditions are referred to as the "three sisters." Fun fact!  Anyway, this didn't look like your average, ordinary pumpkin soup recipe since it had a ton of other ingredients besides just pumpkin… I'm talking beans, corn, rice, red pepper… yum!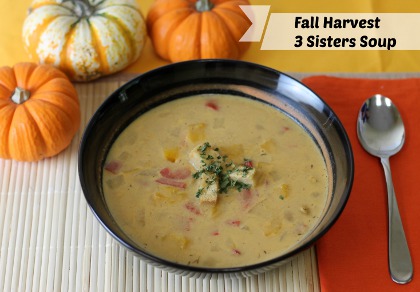 This seemed like the perfect soup recipe to curl up with on a cold fall or winter day since it'd be hearty enough to eat as a whole meal. So, after our trip to the local pumpkin patch, I set about making the 3 Sisters Soup. Here's what I did:
Fall Harvest 3 Sisters Soup
Serves: 4
Preparation Time: 20 minutes
Cooking Time: 25 minutes
Ingredients:
2 1/2 cups pumpkin puree
1/2 cup cream
1 onion, chopped
4 cups chicken or vegetable stock
1 tablespoon mild chili powder
1 teaspoon thyme
1 cup white beans, cooked
1 cup frozen lima beans
1 cup brown rice, barley, or other cooked grain
1 cup fresh or frozen corn kernels
1/2 cup red or yellow bell pepper, chopped (optional)
salt and pepper, to taste
Instructions:
Now doesn't this look like the kind of soup you'd curl up with on the couch on a cold autumn night?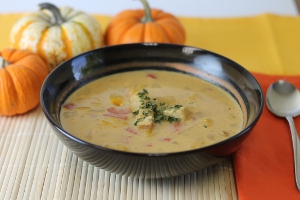 It's definitely a lot more thick and hearty than I was expecting at first. The rice and beans really add a lot of substance that makes this soup a lot more like a stew. Which is great for those days when all you want is something warm and comforting that you can eat out of a simple soup bowl. I love that this one-pot recipe required very little prep work and next to no cleanup, since when the weather gets cold I barely have the energy to cook, let alone do dishes!
Which do you prefer: Soup or stew?
Latest posts by RecipeLion
(see all)