While we're just easing into fall and basking in the beauty of the changing leaves on the trees, winter will be here before we know it–sadly.  Soon, we will need to begin thinking about holiday presents. The earlier you begin planning your winter holiday presents for loved ones, the less stressful the holiday season will prove to be. One way to show loved ones just how much you care is to cook up something special and homemade in the kitchen. Making homemade holiday gifts is budget-friendly and often more thoughtful. At AllFreeSlowCookerRecipes.com, we've already begun gearing up for both the fall and winter holidays and we want to help you to do the same!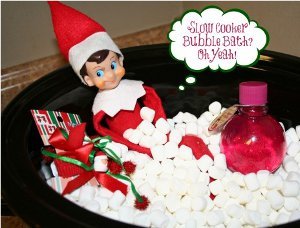 There are many ways to show loved ones you care during the holiday season, and sometimes it can be done with a dash of humor. Many folks have fun with Elf on the Shelf pranks during the holiday season. And, we happen to have an adorable how-to for creating an Elf on the Shelf Slow Cooker Bubble Bath on our site. You can give the entire elf-filled slow cooker as a gift, or just stage it in the house for your family's amusement.
But, you also need some gift ideas for homemade gifts you can make for several friends or family members. We have a couple fabulous slow cooker Christmas gift guides on AllFreeSlowCookerRecipes.com, including our collection, 14 Homemade Soap Recipes and Other Homemade Christmas Gift Ideas. Be sure to also check out our guide, 21 Fun and Simple Homemade Christmas Gift Ideas.
The editors at AllFreeSlowCookerRecipes.com also had some fun this month cooking up a brand new Christmas gift you can make for loved ones that has a touch of humor and will definitely satisfy even the most extreme sweet tooth! We created "Snowman Poop" (also known as cake mix puppy chow) using the slow cooker in the AllFreeSlowCookerRecipes Test Kitchen.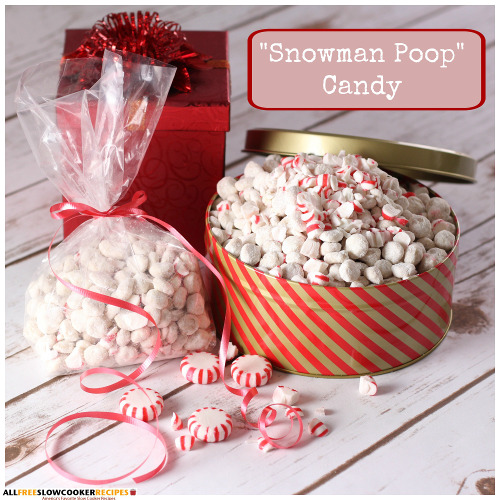 With our recipe on How to Make Snowman Poop in Your Slow Cooker, you can learn how to make this sugary treat in no time! The recipe makes a huge batch, you can wrap up into individual gifts for several recipients. Simple ingredients such as cake mix, white chocolate, and Cheerios cereal comprise this recipe. The addition of peppermint extract, crushed peppermint candies, and powdered sugar make it extra wintery and Christmas-themed.
This snowman poop recipe will give everyone a chuckle. And, it's an addictive, sweet treat your family and friends will love! If choose not to make it for gifts, you can also serve it at a holiday party or bring it to a potluck.
How to Make Snowman Poop in Your Slow Cooker
Ingredients:
 16 ounces white chocolate melting chocolate bars (vanilla candy coating or almond bark also OK)
1 box Funfetti cake mix (dry)
6 cups Cheerios cereal
1/2 teaspoon peppermint extract
1/4 cup crushed peppermint candies
1/2 cup powdered sugar (optional)
Instructions:
Add white chocolate to your 6-quart slow cooker. If it comes in bars, break the bars into cubes to help it melt more quickly.
Melt the chocolate on HIGH, stirring occasionally. Melting the chocolate can take up to 1 hour (our chocolate melted in a 1/2 hour). Watch for signs of burning and stir often.
Add peppermint extract to fully-melted chocolate in the slow cooker and stir.
Add crushed peppermint to melted chocolate and stir to combine.
Add Cheerios and stir to evenly coat the cereal with chocolate.
Next, add your dry cake mix in slowly while stirring to coat the cereal evenly.
If you want your Snowman Poop to look especially white, add 1/2 cup powdered sugar (or more) and evenly coat cereal mixture.
Add additional crushed peppermint as desired.
Cool candy on a baking sheet with wax paper.
Enjoy!
Plus: Gift yourself early and enter to WIN a Swiss Diamond 2-Piece Fry Pan and Grill Pan Set!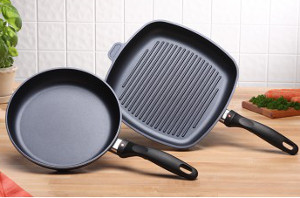 During the month of October we're giving away an amazing Swiss Diamond 2-Piece Fry Pan and Grill Pan Set, which includes an 11-inch (28cm) Fry Pan and an 11×11-inch Square Grill Pan. Both pans are made with heavy-duty cast aluminum, which means these pans will never warp. As with all of Swiss Diamond's cookware, these pans feature a non-stick coating with diamond crystals–the hardest material known to man.
The coating makes these pans nearly indestructible. Swiss Diamond promises a cooking surface that won't crack, blister, or peel. Not to mention, the diamond crystals in the pans' surface help them to conduct heat quickly and efficiently. The technology in these pans creates an even heating surface, unlike many pans which have hot spots. Read our full editorial review of the pans here.
Enter our giveaway for your chance to win by October 26, 2014 at 11:59:59 p.m. Eastern Time.
What's your favorite homemade holiday treat?
Latest posts by AllFreeSlowCookerRecipes
(see all)