Garlic is one of the best ingredients to bring flavor to dishes. Many of our favorite recipes on AllFreeCopycatRecipes.com use the magical cloves. Whether you are making chicken, shrimp, or some roasted veggies, garlic will enhance your recipe. Garlic doesn't just taste great, it also has amazing health benefits. The cloves are loaded with antioxidants and will give your whole immune system a boost. Some people even snack on the raw cloves because the heath benefits are even greater when eaten raw. While we don't recommend chowing down on potent, raw cloves, we certainly recommend using garlic as often as possible! Roasting garlic is one of the best ways to maximize all things delicious.  It is simple to do and the roasted garlic can smeared on bread, put in dressing, or snacked on its own.
How to Roast Garlic
Try to pick out big, gorgeous bulbs of garlic. Any variety will do!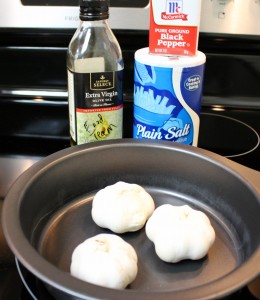 1. Preheat your oven to 375 degrees F
2. Peel away the outermost layer of skin. Then turn each bulb on its side and cut off the tops, about a quarter inch.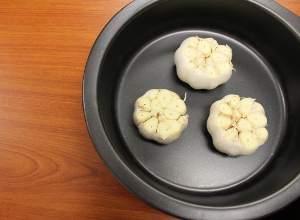 3. Place the bulbs in a pan with the exposed garlic cloves facing up. Then drizzle the bulbs and pan with olive oil, making sure to coat all of the garlic. Sprinkle with a small amount of salt and pepper.
4. Cover the pan with aluminum foil. Roast in the preheated oven for 30-45 minutes or until you home is filled with the sweet aromas of garlic.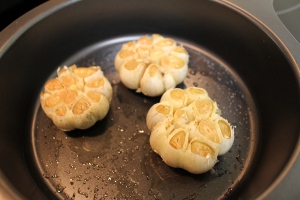 You can remove the cloves individually or serve the whole bulbs. You can then squeeze the garlic out onto a piece of bread, place it in a dip, or even eat it all on its own.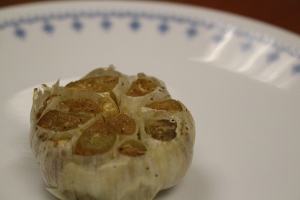 Other Methods of Roasting Garlic
There are many different ways to roast garlic. We have found the method above to be the easiest, but other methods are great too. For roasting many bulbs, we like the muffin tin method. Simply wrap the olive oil drenched bulbs in aluminum foil. Place each foil-wrapped bulb into a muffin tin and bake in the same manner as above.
If you want the garlic to roast faster, separate the cloves before roasting.
Win a Hutzler Garlic Slicer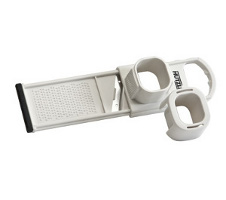 This week at AllFreeCopycatRecipes.com we are giving away a Hutzler Garlic Slicer. This 2-in-1 Hutzler Garlic Slicer is a multifunctional tool every cook should have in their kitchen. This small gadget makes slicing and shredding fresh garlic as easy as can be. Read more about this Garlic Slicer in our full review. You have until May 4th, 2014 to enter here.
What's Your Favorite Garlicky Dish?
Latest posts by AllFreeCopycatRecipes
(see all)