At its core, Thanksgiving is about coming together with loved ones and celebrating all that you're thankful for. Don't let stress get in the way of holiday festivities! Make your Thanksgiving easier and more organized by setting up a buffet table this year!
If you've never done a Thanksgiving buffet before or you're simply looking for tips on how yours can run smoothly, you've come to the right place! These 10 tried-and-true ideas from AllFreeCasseroleRecipes will help you host the perfect holiday.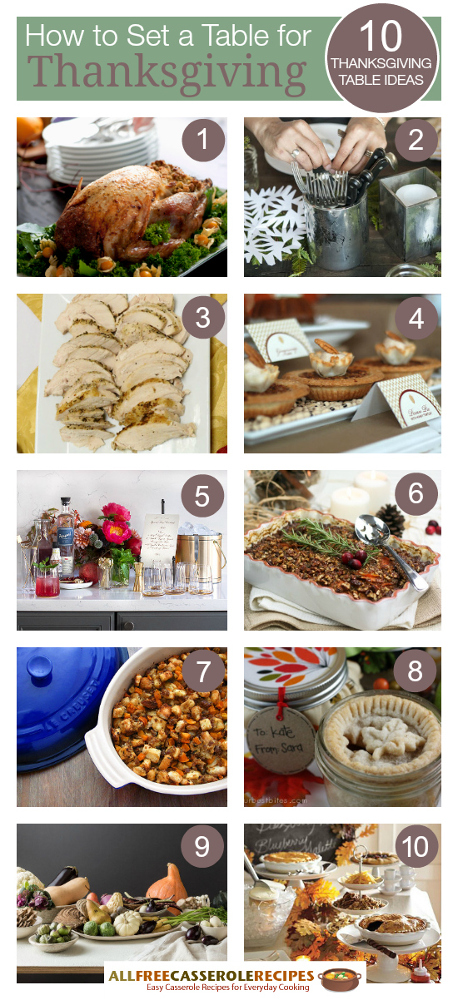 How to Set a Table for Thanksgiving:
10 Thanksgiving Table Ideas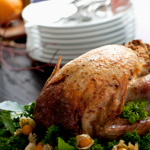 1. Direct the flow of traffic at your buffet. Stack empty plates at one side of the table to determine the start of the line. See more tricks to setting up a buffet table!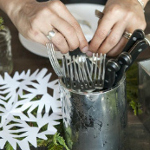 2. Leave napkins and silverware off of the buffet. Instead, set the dining table with these utensils. This way, your guests won't be juggling a plate, silverware, and trying to serve themselves all at once. Plus, this leaves more room on the table for what's important – the food! Do these 5 Things for a Better Holiday Buffet.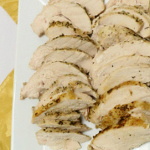 3. Make turkey the star of the show. Everyone's been waiting for this for a year, so why not give the people what they want? Place the turkey at the very beginning of the buffet, followed closely by side dishes, and then bread. Get an easy Test Kitchen-approved turkey recipe!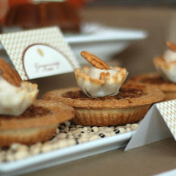 4. Label each dish with its name and dietary information. Fall-themed labels next to each dish will not only add to the ambiance, but will help you and your guests with dietary restrictions. If you indicate whether or not it's vegan, gluten-free, etc., you won't get bombarded with questions during an already stressful time. This will make your guests feel more comfortable, too. It's a win-win! More entertaining ideas here.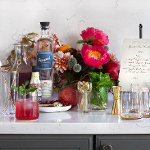 5. Keep drinks at a separate table. This ensures that the buffet line will continue to move smoothly. Put out a big bowl for ice, along with cups and a variety of drink options, so that guests can serve themselves whenever they please. This is the best DIY beverage station ever!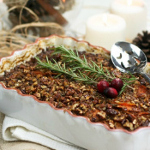 6. Make sure you have the right amount of serving pieces for each dish. Give each dish its own serving spoon and there will be less confusion later on. If you do a potluck style Thanksgiving, don't be afraid to ask your guests to bring their own serving pieces. Don't forget the spoon for this sweet potato gratin!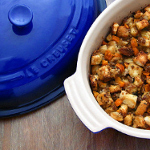 7. Cut out the middleman and use pretty baking dishes. If you cook your food in pretty baking dishes, you can bring these right from oven to table as serving dishes. Fewer dishes to clean up at the end of the night is always a good thing. This stuffing casserole recipe is gorgeous!

8. Make things individually-sized for easy serving. While this may not be practical for something like turkey, individual desserts are easy to make and so cute! We're partial to these Single Serving Pies in a Jar.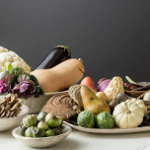 9. Keep décor to a minimum to maximize space for food. Use natural items like vegetables, gourds, Indian corn, or leaves for inexpensive and festive tabletop decorations. Learn how to make a flowerless Thanksgiving centerpiece.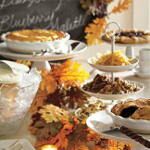 10. Eat dessert with dinner. This controversial tip is for those whose families skip over dessert at the end of the night because they're too full. Too often, guests pass on dessert at the end of the night because they overate. Serving dessert with dinner reminds guests to save room for the sweet stuff. If they're adventurous, they'll eat dessert along with the savory food. If not, they'll be more likely to go back for seconds to grab a sweet treat that they saw earlier. We love this pie bar!
 Now that your buffet is all set up, plan the menu with this collection of Thanksgiving dinner recipes!
What are you making for Thanksgiving?
Latest posts by AllFreeCasseroleRecipes
(see all)