At BlogHer 2013 in Chicago this past July, I attended a special luncheon hosted by Lean Cuisine on behalf of AllFreeSlowCookerRecipes.com, along with my fellow editor at AllFreeCasseroleRecipes.com, representing all of our food sites. During the luncheon, we got to taste the ingredients found in Lean Cuisine's latest Honestly Good frozen meal line. And, we also learned about how ingredients and even dish concepts come into fruition. Essentially, we learned how food branding copes with modern trends.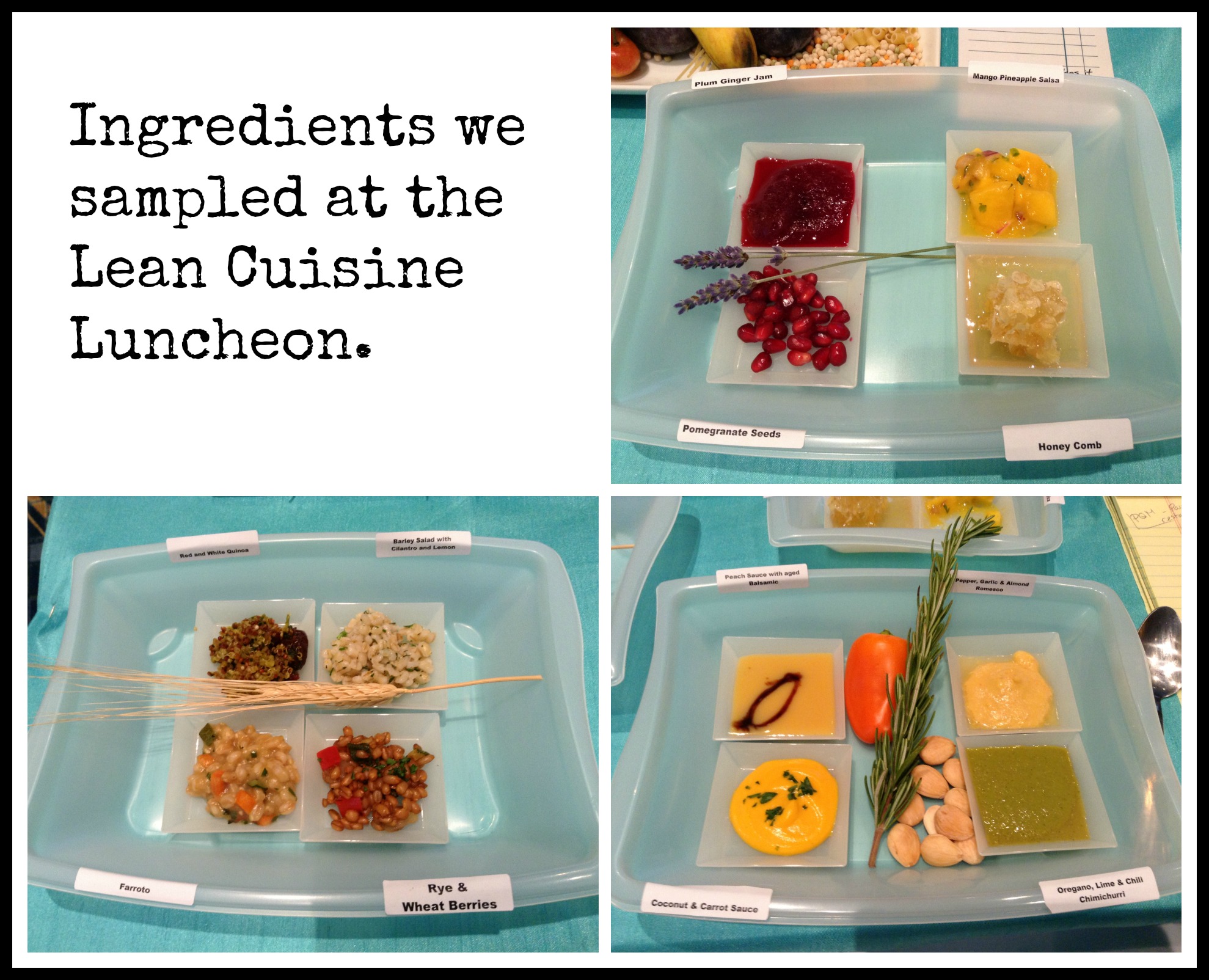 Picture above, we sampled ingredients such as pomegranate seeds, mango, carrot puree, wheatberries, quinoa, and more.
A panel of celebrity judges who help develop Lean Cuisine's dishes explained how food trends hit the public for consumption. Lean Cuisine's "Culinary Roundtable" is comprised of some of the best chefs and culinary experts from across the country. The Roundtable and luncheon leader was Lucien Vendome, director of culinary innovations at Nestle Prepared Foods Company; he also oversees culinary innovation efforts for Nestle's Stouffer's, Hot Pockets and Lean Pockets brands. The Rountable also comprises Michelle Bernstein, Brad Farmerie, Paul Kahan, Anita Lo, and Lior Lev Sercarz.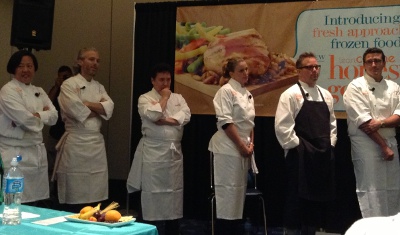 At the luncheon, Vendome explained how top food trends have a lot to do with consumer behavior, rather than food, itself. He said chefs impact our consumer behavior. Vendome explained the evolution of how food trends form. We've left an era in which chefs copy each other and European greats, he said, and we've entered an era in which chefs cook from personal experience and their upbringing. Consumers relate to this personal identification with food, he said.
Vendome said food has evolved as a type of fashion, voyeurism or social currency. It's become a way in which people express their identities or their values. "You are what you eat" takes on a whole new meaning! In addition, chef-inspired dishes have gained social currency. Vendome said we are more impressed by a chef-inspired dish than Mom's cooking. Where our food comes from has value, he added.
That said, Vendome said chefs are the taste-makers, and they're creating trends in their restaurants that will be widespread four years from now and appear in outlets such as Walmart.  The take-away from the talk was that consumers should demand healthy foods, and brands and companies will respond accordingly. Once trends are set by chefs and the public responds to them, they can set the tone for what is delivered in the grocery aisle.
Lean Cuisine's Honestly Good meal line features meals that are 100 percent natural, with no preservatives or artificial ingredients. This meal line debuted this past March in California and we got to taste a couple of their dishes at BlogHer. They gave us samples of Lean Cuisine's Pomegranate Chicken and Lemongrass Salmon. Also, they offered us a chocolate cake for dessert, which was made of 40 percent black beans.

The dishes we sampled reflect current food trends. The Lemongrass Salmon was made with wild-caught salmon, ginger lemongrass sauce, fresh snap peas, orange and yellow carrots, and edamame. And, the dish came with brown rice and wheatberries. The Pomegranate Chicken was made with a whole grilled chicken breast filet, a pomegranate glaze, green and yellow beans and carrots, as well as whole grain pilaf with currants. Ingredients such as wheatberries, pomegranate, and whole grain products are trendy right now. In addition, fresh protein such as wild-caught salmon is emphasized when trying to eat healthy, fresh products.
Which food trends have you tracked and tried in your home?
Latest posts by AllFreeSlowCookerRecipes
(see all)