"Summertime, Summertime, Sum-Sum-Summertime." Oh, how I love summer. It's the season of pool parties, beach outings, and frozen desserts. My favorite may be the frozen desserts and, as it happens, that's what I'm going to talk about today. One of the coolest frozen desserts that I know of (no pun intended), is the icebox dessert. This special treat utilizes the freezer instead of the oven, which is why it's an ideal summer dessert. Who wants to turn their oven on when it's 80 degrees outside? (No one). Who wants to eat dessert when it's 80 ANY degrees outside? (Everyone).
RecipeLion has a wonderful collection of icebox desserts that are perfect for Summer 2014. Icebox cakes are the first category on our list and are perhaps the best, too. Cake, ice cream, and other goodies are stacked on top of each other and covered in more sweet, sugary goodness. Oh my, some are stacked a mile high. Just take a look at The Ultimate Banana Split Icebox Cake. A whipped cream/vanilla pudding mixture is sandwiched between graham crackers, and it's all topped off with strawberries, bananas, and chocolate. Can you say "Yes, please!"? I sure can.
Take a few moments to take in this beauty:
Done? Ok. Moving on.
Next, I want to shine some light on Devil Dog Icebox Cake. In case you are unaware of what a Devil Dog is, I will enlighten you. It is a creme filled Devil's food cake. This icebox treat adds ice cream to the mix, so you have cake and ice cream side by side in one dessert. Could you have a more perfect summer birthday dessert?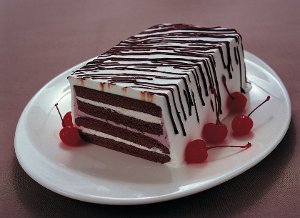 More icebox cakes to love:
No-Bake Strawberry Icebox Cake
S'mores Icebox Cake (My favorite. I could eat a s'mores anything.)
Besides icebox cakes, there are also icebox pies. Lovely Lemon Icebox Pie is an absolute delight. A graham cracker crust holds a creamy, vanilla pudding filling, and is topped with whipped cream. The light, lemon flavor is refreshing on a hot day.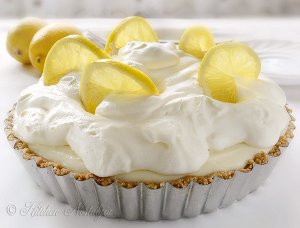 More icebox pies to love:
Coconut-Lime "Island-Breeze" Icebox Pie
Chocolate Peanut Butter Cup Icebox Pie
If you liked these icebox desserts, then you need to view our collection of 18 Excellent Icebox Recipes for Dessert. I'm not kidding. There are more varieties and flavors that I couldn't fit into one blog post. Any one of these icebox treats would be a fun addition to a summer party. Hey, I might throw one just so I have an excuse to make an icebox dessert…
Have you made an icebox dessert before? How did it turn out?
Latest posts by RecipeLion
(see all)