Meatballs are one of the best appetizers to make because they are delicious, easy-to-make, and budget-friendly. They can be enjoyed as a main course, but they are also the perfect party appetizer. You can make the meatballs ahead and keep the warm all day or night long.
On AllFreeCopycatRecipes.com we have all kinds of meatball recipes. Whether you like Italian meatballs with lots of red sauce or Swedish meatballs with loads of gravy, there is a recipe for you. Meatballs are a crowd-pleasing appetizer that all your friends and family will enjoy.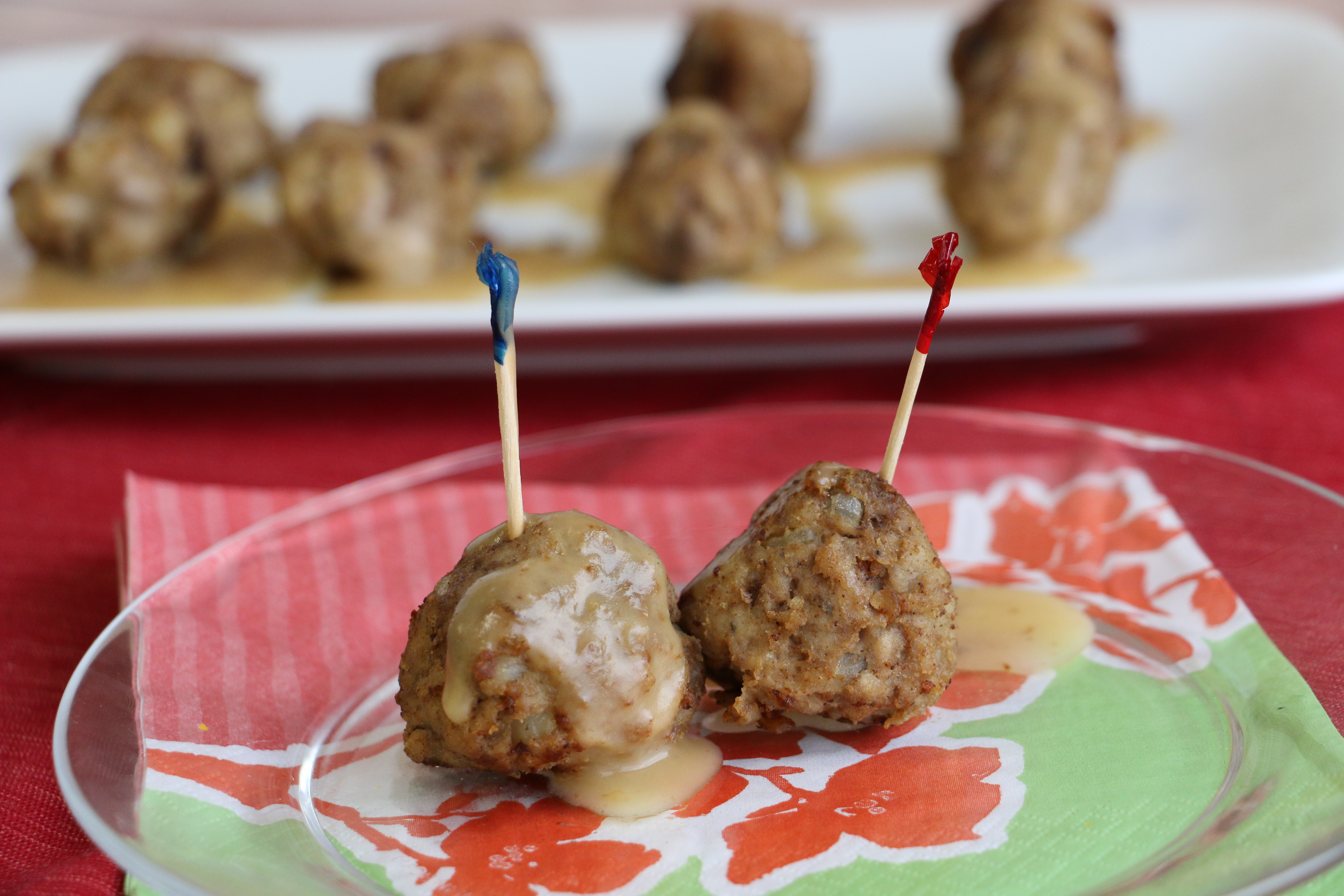 These meatballs are a specialty of the Swedish store, IKEA. They are famous for having affordable furniture, but even more famous for this meatball recipe. Unfortunately, heading to an IKEA is not always possible. Now, you won't have to make an excuse to go, since you can make this easy meatball recipe at home! Serve these Swedish meatballs at your next party and friends will wonder if IKEA catered your party.
Makes: 50 Meatballs
Ingredients
2 potatoes, peeled and cubed
3 tablespoons butter, split
1 onion, diced
1/2 pound ground beef
1/2 pound ground pork
1 egg
1/4 teaspoon allspice
1 teaspoon salt, more to taste
1/4 teaspoon ground pepper
1/4 cup flour
3 cups beef broth
1/4 cup heavy cream
Instructions
Place the prepared potatoes in a large pot and add cold water to cover. Bring the water to a boil and cook the potatoes until they are tender. Once tender, remove the potatoes from the water and mash using a potato masher or ricer. Let cool completely.
Add 1 tablespoon of butter to a saucepan and melt over medium heat. Add the diced onion with a pinch of salt and saute until translucent. Once the onions are softened and clear, set them aside to cool.
Preheat the oven to 250 degrees F.
In a large bowl, mix the ground beef, ground pork, egg, seasoning, cooled onions, and mashed potatoes. Form the mixture into 1 tablespoon-sized meatballs.
Add the remaining 2 tablespoons of butter to a large saucepan and melt over medium heat. Fry the meatballs in batches, about 10 meatballs at a time. Turn the meatballs to brown evenly on all sides. Cook through. Place cooked meatballs on a sheet pan and keep them warm in the preheated oven. Add another batch of meatballs and repeat the process until the meatballs are all cooked.
Once the meatballs are cooked, add the flour to the saucepan filled with the meat grease. Whisk vigorously for about 2 minutes. Slowly add the beef broth and continue to whisk.
After a couple minutes, add the cream. Whisk the mixture until it thickens.
Remove the meatballs from the oven and put in the thickened gravy, or serve the gravy on the side.
Do you prefer Italian meatballs or Swedish meatballs?
Latest posts by AllFreeCopycatRecipes
(see all)