Baby, it's cold outside. As the temperature begins to drop, our need to stay warm begins to rise. One thing many of you do to stay warm is to snuggle underneath a blanket or turn up the temperature inside your house. However, in my opinion, the best way to keep warm is to eat a big and wonderful winter-time dinner.
Eat a meal that is not only pleasing to the taste buds but also one that warms the soul. Our friends over at FaveGlutenFreeRecipes.com have found, collected, and assorted a handful of amazing recipes that are not only good for you but are amazing to eat to cure the winter-time blues.
Soup is amazing to have during the winter time. As the grounds starts to get whiter and whiter because of the snow, let your tummy get hungrier and hungrier for a big, steaming bowl of soup. Fave Gluten Free as the perfect soup recipe for you: a Three Bean Stew that is just marvelous.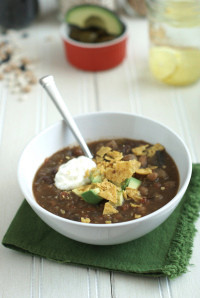 This Roasted Winter Vegetable Soup from Hail Merry is the perfect thing to have on a cold winter day. While there are many ingredients that go into this soup, that is only because this is one of the most flavorful things you will ever eat in your life. The soup is creamy and rich and one of the best gluten free vegetarian meals around.
Having a nice, hot sandwich is perfect for a cold, brisk day. Sherrie from Living Simply Gluten Free has an incredible hot sandwich for you. This Grilled Sweet Potato Avocado & Sprout Sandwich is an amazing gluten free vegetarian dish that we guarantee you will be eating all year long.
These Veggie "Meatballs" from Kim from The Balanced Platter are not only gluten-free and meatless, but they are also vegan and soy free. That means that this wonderful dish can be enjoyed by all. The best part about this meal is that you won't even notice there are no meat in these meatballs!
This Winter Squash Lasagna from Angela from Canned Time is just out of this world. It is really that good. There are so many healthy ingredients that you can substitute in when making your lasagna that you can have a gluten free vegetarian dinner that not only tastes good, but it is good for you.
What is your favorite activity to do in the snow?
Latest posts by RecipeLion
(see all)