It's a day to look dashing, wear your biggest hats and bow-ties, without the ridicule, and eat finger sandwiches with your pinkies proudly sticking out.  It's Kentucky Derby Day and we are super excited for easy appetizer recipes, drinks, and of course illegal gambling.
The bets and races are on.  Which horse do you think is going to be given the rose wreath? Which jockey will be showered with champagne?  Our advice is to put your money on the horse with the most ridiculous name.  This year, I'm betting on Daddy Nose Best.
In order to help you prep for this momentous day, we've gathered some delicious Kentucky Derby  party recipes so you can throw the best party.  Not everyone is lucky enough to travel to Kentucky and enjoy the derby, but that doesn't mean that you can't dress up with friends and enjoy the event in your own home.    We have every thing you need to throw a stellar mixer.
Let's go off to the races and on to the tracks with these splendid Derby Day recipes. When it comes to easy appetizer recipes, we don't horse around.
Derby Day Recipes – Easy Appetizer Recipes
Enjoy the race with some finger foods.  These bite-sized dainty sandwiches are perfect to keep your elegant and dapper appearance.  There's no need to worry about dripping on your outfit with these refined sandwich recipes.
~~~Turkey Nibblers~~~
Dainty quarters of turkey and herb cheese spread sandwiches on whole grain bread make for a perfect snack!
~~~Bacon Cheddar Puff Pastries~~~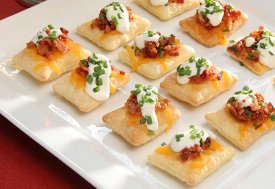 You can't go wrong with bacon, cheddar cheese and creamy ranch!
~~~Cheesy Vegetable Triangles~~~
Easy-to-make, colorful and delicious, these bite sized elegant sandwiches are served with a cucumber and a slice of radish.
~~~Derby Day Cucumber Sandwiches~~~
 Simple, yet delicious, a must at any Derby Day party.
~~~Whole-Grain Toast Triangles with Hummus~~~
Homemade hummus is placed on top of toasted wheat bread in this delicious bite-sized treat.
Derby Day Recipes – Drink Recipes
What's a mixer without a mixed drink?  These sophisticated drinks aren't for the kids and will make the racing and schmoozing a little more tolerable.  Put your glasses up and cheers for the winner of the race.
~~~The Mojito~~~
Made with rum, fresh lime and mint, these tasty drinks are easy to knock back while enjoying the race.
~~~The Mint Julep~~~
A little different from the mojito, this drink is made with whiskey or bourbon and with a hint of mint.
We hope that these Kentucky Derby Day recipes help you plan the best social.  So, get dressed up, have some fun, and win a little money.  It only happens once a year, so why not celebrate?
For more appetizer ideas check out our 39 Appetizers Recipes & Party Pleasers Free eCookbook.
Latest posts by RecipeLion
(see all)