Having a well-stocked kitchen can save time and money. With everything you need in arm's reach, you can try all the recipes your heart desires without stressing over a shopping list.
An organized kitchen has been on our minds lately as we just designed a brand new Test Kitchen! Here's our executive producer Adia Benson sharing tips on how to stock your kitchen (with help from our friends at Swiss Diamond):
We're giving away one kitchen essential here on RecipeChatter: a Swiss Diamond Wok! Find out how you can win below.
Whether you're creating a home for the first time, just moved, or you want to get back to basics, it helps to have a strong idea of what you need before you're confronted with every gadget/ingredient in-store. In this guide on how to stock your kitchen, we'll give you food for thought and help you determine what you need and don't need.
Once you have your kitchen essentials down, you'll be set for years to come.
How to Stock Your Kitchen in Three Steps
Step 1: Discovering Your Personal Kitchen Essentials
Kitchen essentials can mean something different for everyone, depending on your background, culture and location. You probably have a different list of must-haves than your neighbors, so start by thinking about what you can't live without.
Here are some questions that can help you write a list of personal must-haves:
What are the top 3-5 staple recipes from your upbringing? What kitchenware/ingredients do you need to make those recipes?

If mom used unsalted butter on everything, you should stock up.

Do you tend to make food from a particular culture (Asian, German, Amish…)?

For example, if you love Asian food, a rice cooker might be essential for you.

If you were going camping, what kitchen items would you absolutely need?
Do you or household members have any dietary needs or restrictions?

Do you need sugar-free applesauce on-hand for your diabetic dad?

What kind of flavor palette do you prefer?

What spices/seasonings do you need for that palette?
Step 2: Stocking General Kitchenware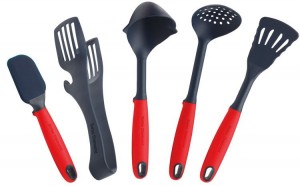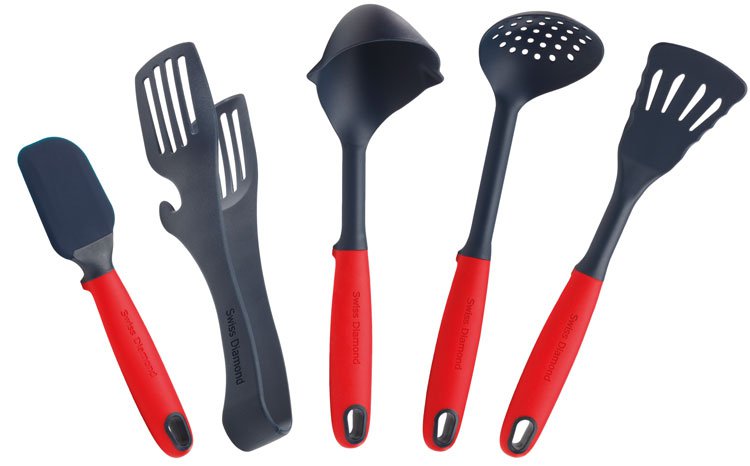 Once you have your specific list of personal kitchen essentials, it's time to focus on kitchenware you might've forgotten on that list. Here's a general list of kitchenware used in everyday home cooking.
Cutlery, including a set of knives
Plates, cups
Spatulas, spoons
Nonstick fry pan
Soup pot
Sauce pan
Casserole dish
Baking pan
Pizza pan
Sheet pan
At least three sizes of pots for sauces, pasta and main courses
Nonstick wok with lid
Strainer
Step 3: Stocking General Pantry Items
Personal tastes aside, there are some ingredients that are practically universal. Make sure they're on-hand and you can tackle most recipes!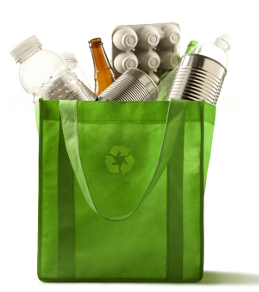 Sugar / Brown sugar
Flour
Jams/Jelly, if that's your thing
Canned fruits and veggies
Rice/Pasta
Bread
Seeds and nuts
Oil/Butter/Cooking spray
Salt/Pepper
Must-have seasonings and herbs (garlic powder, basil, onion powder, parsley, nutmeg, cinnamon, cumin)
Bonus: Win a Swiss Diamond Wok!
To help you have a perfectly stocked kitchen, we're giving away an amazing product that you definitely need. One lucky reader can make a healthy stir-fry using the Swiss Diamond 11.8″ Wok.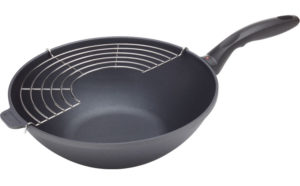 To enter to win, comment an answer to this question:
What's a kitchen essential on your personal list?
Official Rules:
There is a maximum of one entry per person. The entry will be based upon a comment left on this blog post. Duplicate comments will be deleted and are not tallied.
The winners will be selected at random from the comments on this blog post.
Winners will be announced here on the blog as well as contacted by the email address provided.
You have until Sunday, August 28, at 11:59pm EST to leave your comment on this blog post. Comments posted after that will not be counted.
Contest open to anyone 18+ in US or Canada (Except Quebec and Puerto Rico)
Good luck! 🙂
Latest posts by RecipeChatter
(see all)