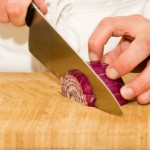 You've watched chefs on TV slice and dice their way through entire baskets of produce in under a minute flat. Sometimes it seems like they're done chopping an entire onion before you can even adjust the volume on your TV. It's nothing short of impressive, which is why there are so many cooking shows and channels devoted to showcasing these kinds of skills. There's an entire program called "Chopped," for heaven's sake!
With that being said, you don't have to be a master chef to know your way around a knife and cutting board. In fact, everyone should be well-versed in knife safety, not only for their own health, but also to make the most out of their dishes in the kitchen!  Keep reading to find out some of our top tips for knife safety basics.
Knife Safety… What You Should Know:
Use the proper knife.

Not all knives are created equal. Depending on what you're cutting, you'll need to choose the correct knife. For hearty produce like carrots and potatoes, use a chef's knife. For smaller foods like berries, a paring knife will do the trick. Using the wrong knife can not only damage the knife but also potentially cause you to hurt yourself.

Don't be dull.

Don't be afraid of sharp knives. Although it's the opposite of what you'd expect, sharp knives are actually less likely to hurt you than dull knives. When cutting with a dull knife, you're more likely to use more pressure, which means if you slip, you could cause some serious damage. With a sharper knife, you don't have to use as much pressure, so there's less risk of injury.

Flat surfaces are your friend.

There's nothing worse than trying to cut a big, round piece of produce… think watermelon or even a large onion, and have it roll around on your cutting board while you wield your knife. Keep that sucker under wraps by cutting a small piece off of the bottom of the round fruit or vegetable. This creates a flat surface so your target will stay secure for the rest of the chopping process.

The cutting board is key.

I've been guilty of skipping the cutting board before. When I need to quickly chop a pepper for a salad, sometimes I think I can forgo the cutting board and save myself an extra dish to clean. But what I'm forgetting is that a cutting board is essential not only for keeping your fingers safely out of the way of the knife, it also helps you cut your produce uniformly because it keeps things in place. There's a lot less wiggle room for that pepper when it's securely on a cutting board than when it's sliding around on your counter top!  Lesson: keep the cutting board!

Special Bonus:



From now until October 6th, enter to win a Black Walnut Trencher Board from Kaufmann Mercantile. This beautiful, sloped wood carving board (valued at $89) is designed specifically to catch drippings when carving meat, fruit and other juicy foods. It'll change the way you chop and make food prep a breeze!  Enter for your chance to win today!
Latest posts by RecipeLion
(see all)