Have you heard about the petition swirling around against Kraft and their artificial food dyes? Currently, Kraft uses Yellow 5 and Yellow 6 in their macaroni and cheese that they sell in the United States and Canada, though not in Europe due to stricter food laws. Two food bloggers from North Carolina are taking a stand against Kraft by demanding them to remove the artificial dyes from their macaroni and cheese products in the U.S.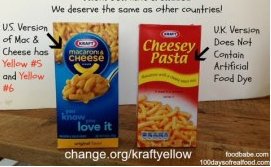 The two bloggers who started the petition are Lisa Leak from 100 Days of Real Food and Vani Hari from Food Babe. They are upset that Kraft uses these dyes and wish to ban them. They claim the dyes are harmful because they are man-made in a lab with chemicals derived from petroleum, are contaminated with known carcinogens, cause an increase in hyperactivity in children, have a negative impact on children's ability to learn, and more. They also add no nutritional value to the foods, but are only used for aesthetic purposes. Beta carotene and paprika create the same colors as the dyes, and are used in place of them in Europe. As of March 12, 2013, more than 220,000 people have signed the petition asking Kraft to stop using artificial food colorings in its mac and cheese products. You can find the petition on Change.org.
Whether you support or oppose this petition, we can all agree that the issue can be avoided by making your own macaroni and cheese! As you know, we have amazing, homemade baked macaroni and cheese recipes on AllFreeCasseroleRecipes – no dyes required. And these are no ordinary mac and cheese recipes – they're extraordinary. Take, for example, our Chicken Bacon Ranch Mac and Cheese. The three ingredients in its name really put it over the top. The flavors complement each other perfectly. You won't be able to get enough of it! Another awesome recipe is our Pepperoni Pizza Mac and Cheese. Made with pepperoni, mozzarella, tomatoes, and Italian spices, this is one dish you'll want to make over and over again. It makes enough for eight, so if you're having company over and want to serve them comfort food like they're never had before, serve this.
We even have a whole eCookbook devoted to just macaroni and cheese recipes. It includes the full recipes of the two stated above, plus Buffalo Chicken Mac and Cheese Casserole, Chili Mac and Cheese, and more. Over the years, this classic dish has evolved from a simple dinner made from pasta, cheese, and milk, to one bursting with flavor and exciting ingredients. Download your free copy of 11 Baked Macaroni and Cheese Recipes today.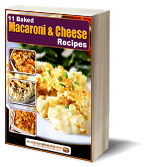 What do you think of Kraft using artificial dyes in their macaroni and cheese products?
Latest posts by AllFreeCasseroleRecipes
(see all)