Any of you who subscribe to RecipeLion's Quick and Easy Recipes free email newsletter have probably noticed that our community of recipe contributors has been growing by leaps and bounds lately (we now have nearly 40 wonderful contributors that we work with!). We absolutely love finding new food bloggers to work with and sharing their great content with our readers… it's one of our favorite parts of our job. Drooling over recipes and photos of delicious food every day, I mean who wouldn't love that?  We also love getting to "meet" and work with talented cooks and food writers who share their amazing original recipes with us and our readers. We're always impressed by what our "Featured Foodies" are coming up with in their kitchens!  If you're interested in becoming one of our Featured Foodies and working with RecipeLion, just contact us and send along a link to your blog and we'll get the conversation started!
Which brings me to the reason for this blog post. I wanted to introduce you all to one of our newest Featured Foodies and the cook behind one of our recent hit recipes — the 1940s Lazy Daisy Cake — Lana Stuart from the blog Never Enough Thyme… When Lana's Cooking. Lana was kind enough to sit down with us and answer a few questions about herself, her blog and her recipes, so keep reading to find out more about the lady behind some of our new favorite recipes on RecipeLion!  And for a special "sneak peek" at a treat from Lana's recipe archives, be sure to scroll to the bottom of this post!
A Chat With Lana Stuart from Never Enough Thyme:
Q:  What was the inspiration for you to start your cooking blog, and where did the blog name come from?
A:  I actually started my blog a little more than four years ago on Super Bowl Sunday afternoon. I was bored!  At first, I didn't have a real direction for the blog, but within just two weeks I knew what I wanted to do was share the recipes that I cook for my family! The name "Never Enough Thyme" actually comes from an old hand-painted sign that has hung in each of my kitchens for the last 25 years or so. It's a piece that is unique and special to me, so it was a natural choice for the blog name.
Q:   What are some of your favorite types of dishes to cook and why?
A:  Even though I cook many different types of food, my favorite is old-fashioned Southern cuisine. I love to cook the recipes that I grew up with and am so happy that I can share them on the blog so that they aren't lost to younger generations. It's my way of keeping my food heritage alive.
Q:  What's the best piece of cooking advice you can share with our readers?
A:  Don't be afraid to try new things! Step outside your comfort zone once in a while. You just might find something wonderful out there!
Q:  How did you get involved working with RecipeLion.com and what has your experience been like so far?
A:  I knew about RecipeLion for quite some time, but didn't really realize that I could get involved. Then one day a fellow blogger, Amanda Formaro, mentioned RecipeLion in a private group on Facebook. She talked so favorably about her experience that I decided to reach out and make contact. Much to my surprise, I got an answer and soon after one of my recipes was featured on the site. I was stunned at the amount of traffic that the feature brought to my site. Needless to say, I consider partnering with RecipeLion one of the most positive experiences I have had since I started blogging. I certainly hope it continues in the future!
Q:  What would you say to others who are interested in sharing their recipes with RecipeLion and working with RecipeLion?
A:  I'd tell them to go for it! It has been a completely positive experience for me. One thing that all food bloggers are concerned about is protecting their content. RecipeLion's way of posting a photo with "teaser" content and a link to the blog for the full recipe is exactly the way food bloggers prefer to see content shared.
Thanks so much to Lana for taking the time to answer our questions and chat with us!  We've loved working with her and are always happy to share her great recipes with our readers.  In fact, here is that "sneak peek" recipe that I promised you earlier.  If you want to make this Heavenly Peach Pie, head on over to Lana's blog, Never Enough Thyme, for the full recipe and step-by-step instructions!
Lana's Heavenly Peach Pie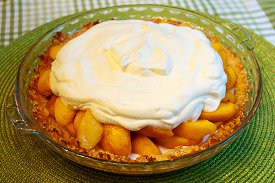 Prep Time: 15 minutes
Cook Time: 15 minutes
Yield: 6 servings
Ingredients:
1 cup slivered almonds
1 cup flaked coconut
1/4 cup sugar
1/4 cup melted butter
1 cup sour cream
dash of salt
4 tblsp. powdered sugar
1 tsp. vanilla
5-6 ripe fresh peaches, peeled and sliced
1 cup heavy whipping cream
3 tblsp. sugar
What kinds of Southern recipes would you like to see from Lana in the future?
Latest posts by RecipeLion
(see all)