Print This Post
Christmas is here, can you believe it? If you haven't started baking or making a lot of desserts, then you need to start…yesterday. Have no worries though! Even if you still have Christmas parties to attend or want to bake something today with the family, with this collection of gluten free Christmas desserts, you're going to be all set.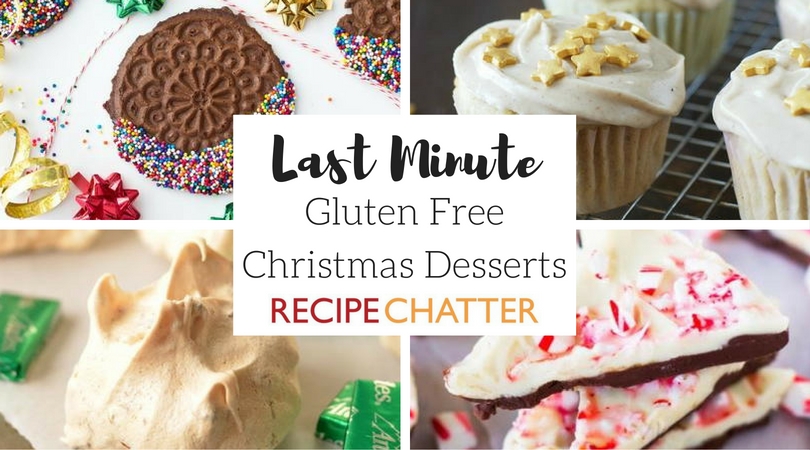 If you want to make Christmas day treats to give to your friends, make an extra batch of cookies or cake and wrap them up pretty. People will feel the toasty love of the holiday season with these delicious goodies. Everyone loves to get something sweet for Christmas, especially if it's homemade. All of these gluten free dessert recipes are easy to make and they're perfect for your favorite holiday. Plus, if your oven is already fit to burst, we have some of our best gluten free no bake dessert recipes for you to try.
There's a recipe or two for everyone in this collection so you're sure to find something you'll love. From cookies to cake to no bake gluten free desserts, every sweet tooth will be satisfied this holiday season.
Gluten Free Christmas Cookies
Gluten Free No Bake Dessert Recipes
More Gluten Free Christmas Desserts
Looking for more gluten free Christmas desserts? Check out one of our absolute favorites: Gluten Free Christmas Crack!
How do you help keep gluten free over the holidays? Let us know below in the comments!
FaveGlutenFreeRecipes.com is your source for hundreds of free gluten free recipes, gluten free foods, and gluten free healthy recipes. We add new wheat free recipes and tips every day. You will find step-by-step instructions, videos, and recipes to make gluten free cooking quick and easy. Whether you have celiac disease or are just interested in learning more about a gluten free diet, we have something for everyone. From healthy gluten free breakfast recipes all the way to gluten free dessert recipes, we have gluten free cooking ideas for everyone and for every situation.
Latest posts by FaveGlutenFreeRecipes (see all)
Print This Post