It's always tough to know what your role is during a holiday meal when someone else is cooking. Are you expected to go over early to help prepare? Should you bring something? Should you just try to stay out the way? Each family has their own method of deciding how to distribute holiday tasks.
When it's me, I always like to make sure I put forth some sort of contribution. Whether I'm in charge of baking the pie for dessert or I go early to set the table and help with preparations, it can be daunting having to cook for everyone else alone. If  you're also looking to lend a hand with Easter dinner, our friends at the Mr. Food Test Kitchen are here to help! No matter what kind of meat you're serving up, a potluck deli salad recipe can go a long way in making your meal complete. And trust me, the Mr. Food Test Kitchen is exactly where you want to look for the best potluck deli salads.
Do you have your plastic storage containers at the ready? Good 'cause you're going to be needing them. Check out the potluck deli salads that'll make your Easter dinner absolutely perfect.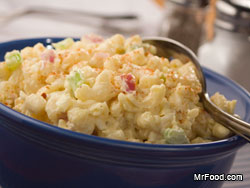 Basic Macaroni Salad: Plain and simple, this potluck deli salad will even make its way onto the kids' plates!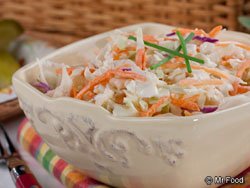 Buttermilk Coleslaw: With a fresh blend of carrots and cabbage, this Buttermilk Coleslaw is a delectable addition to your Easter dinner.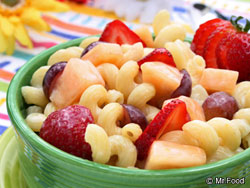 Pasta Fruit Salad: Have you ever tried combining your fruit with pasta? It's a pleasantly fresh approach that makes this one of our favorite secret weapon potluck salads.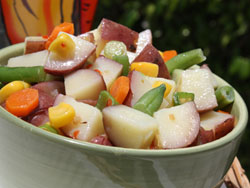 Garden Potato Salad: If you're looking for a springtime delight, this Garden Potato Salad is loaded with flavors without tasting too heavy.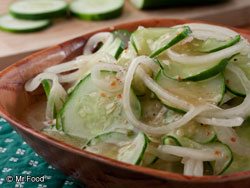 Marinated Cucumber Salad: This marinated cucumber salad has a crispy crunch that lets you know that sunshine and warm weather are just around the corner.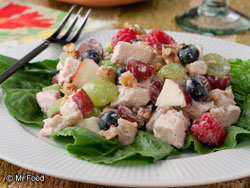 Berry Grape Chicken Salad: Adding a pop of fruity flavors makes this potluck deli salad the ideal way to celebrate spring.
Are you planning to bring any dishes to your Easter dinner? Let us know in the comments below!
Latest posts by MrFoodTestKitchen
(see all)