On November 13, I attended a cooking class at cookware giant Sur La Table. The topic: Vegetarian dishes.
Our fearless leader, teacher, and chef/owner at Sweet Cassava, Susan Taves, led our group of eight down an unforgettable path of new discoveries, interesting factoids about food and the world of professional cooking, and best of all … new recipes to try at home!
We'll get to the recipes soon enough, but first let's play a little game of True or False. (Don't worry, I won't leave you hanging. Answers will be at the bottom of this post.)
1) True or False? Non-stick pans emit a chemical named Teflon, which is believed to cause cancer in humans.
2) True or False? Lemon is an appropriate substitute for salt.
3) True or False? Vegetarian cooking is quick and easy.
But now, let's talk about some recipes. Susan showed our class how to make a Polenta Tart with Mushrooms and Sage (shown below). It was simple enough to make for a light weeknight meal, and elegant enough to serve for a Sunday brunch. The flavors and textures were both simple and dynamic, which made the dish very enjoyable.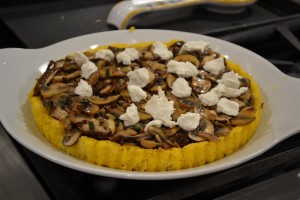 We also learned how to make a souffle. This recipe included acorn squash and goat cheese, and making it was definitely not a process for the heavy-handed. It was a very delicate dish that required a soft hand. Final product shown below.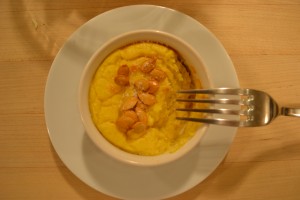 Now, my favorite recipe from the class — Farro, Kale and Sweet Potato Salad with Pomegranate Seeds. My oh my was this a delight. See the full recipe below.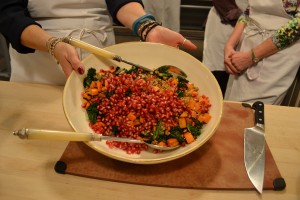 Ingredients
3 tbsp olive oil
2 lbs. sweet potatoes, peeled and cubed
salt & pepper
1 cup farro, rinsed and drained
2 cups vegetable broth, low sodium
2 cups warm water
1 medium yellow onion, diced
1 medium garlic clove, minced
4 oz. kale, preferably Tuscan, center stems removed and cut into 1/2-inch pieces
1 tbsp lemon juice
1/4 cup pomegranate seeds
Instructions
Preheat the oven to 375 degrees F and position an oven rack in the center.
In a large bowl, toss sweet potato cubes with 2 tbsp of olive oil, and salt & pepper until well-combined. Transfer to a baking sheet and roast until fork tender.
Cook farro according to box/label directions.  Use water and broth.
Add remaining oil to a skillet and when shimmering, add onion and cook until translucent. Add the garlic and cook until fragrant. Add the kale and cook until wilted. Add lemon juice and transfer to a bowl with all other ingredients. Toss to combine.
True or False Answers:
1) False. The major health effect linked with Teflon is the potential release of dangerous fumes from coated pans that are overheated. These fumes can cause flu-like symptoms in humans (a condition known as polymer fume fever) and can be fatal to pet birds.
2) True. The acidity in lemons actually works quite well as a replacement for salt.

3) False. Vegetarian cooking can be quite time-consuming and definitely takes more effort than throwing a boneless, skinless chicken breast on your grill pan. 
What would you LOVE to learn how to cook?
Latest posts by FaveHealthyRecipes
(see all)