This blog post comes to us from AllFreeCasseroleRecipes Featured Foodie Judy Hannemann –  retired mechanical engineer and author of the blog, The Midnight Baker.
I'll begin by saying, "orzo," because that's how this particular dish came to be.
Just a little background – my sister and her family love orzo.  She lives in Great Britain where, until just recently, orzo was not available. She would visit with me twice a year and stock up on it both times.  Sometimes she could not fit all of what she bought in her suitcase, so she'd leave it here until the next visit.  Of course, if there was a sale, she'd really stock up, and if there was a great sale when she was not here, I would purchase it in multiple amounts for her. Needless to say, my guest room at times resembled a pasta, especially an orzo, warehouse.
Fast forward to the fact that this shape of pasta is now available in the UK, so she can buy it regularly without having to import it herself.  My guest room still looks like an orzo warehouse, as she no longer needs to "import" it.  Stuck with all this, I was a bit overwhelmed at what to do with it, as I'd already given away some of it and could find no more victims!  It was then that I decided to turn some of my rice sides into orzo sides and some stove-top meals into one-dish casserole meals.
One of the first things I made was my Lemon Chicken Oreganata.  This is very much like the classic Chicken Piccata, only it is much less tart.
The orzo cooks with the casserole in this recipe.  The result is a delicious and tangy chicken with a risotto-like side.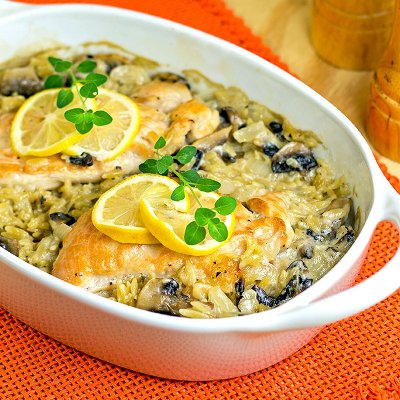 2 large boneless skinless chicken breasts
2 envelopes Swanson Flavor Boost chicken flavor (or 2 chicken stock cubes)
1/2 cup dry white wine
1/4 cup fresh lemon juice
2 cups orzo pasta
2 tablespoons sugar
1 1/4 cup water
1/4 cup sour cream
1 tablespoon capers
1 tablespoon fresh oregano, minced (or-1/2 teaspoon dried oregano)
1/2 cup mushrooms, sliced
1/4 cup onion, chopped
2 tablespoons olive oil
3 tablespoons butter
1 teaspoon salt
1/2 teaspoon pepper
Seasoned Flour:
1/2 cup flour
1 teaspoon kosher salt
1/2 teaspoon black pepper
Pound chicken breast between 2 sheets of waxed paper or plastic wrap with a meat mallet to approximately 1/4-inch thickness.  Cut into serving-sized portions.
Mix together all the seasoned flour ingredients.  Place mixture on a plate and dredge the chicken pieces, coating them well.  Cover and refrigerate for 1 hour.
Lightly grease or spray a 9 x 13 inch baking dish.  Preheat oven to 350 degrees F.
Heat the 2 tablespoons of olive oil in a large, heavy skillet or sauté pan over medium-high heat.  Brown chicken breast in hot olive oil until golden brown; remove from pan and set aside.
In a large bowl, combine the orzo, sugar, water, lemon juice, sour cream, capers, fresh oregano, salt, and pepper.  Stir well to combine
Add the 3 tablespoons of butter to the hot pan and sauté the onions and mushrooms until slightly tender.  Add the wine and Flavor Boost to deglaze the pan, scraping up all the browned bits.  Cool slightly and add the entire contents of the pan to the orzo mixture.  Stir well.
Add the orzo mixture to the prepared pan.  Top with the browned chicken and bake for 20 to 30 minutes, or until liquid is absorbed by the orzo.
Garnish with lemon slices if desired.
Serves 4
How do you use any food products you have overbought or seem to be overrun with?
Latest posts by AllFreeCasseroleRecipes
(see all)