Lately we've been seeing lemon recipes pop up everywhere. From our Pinterest boards to food magazines to dinner specials at our favorite local restaurants, it seems like lemon is the hot ingredient of the moment. Bright and flavorful, it's no wonder that this citrus powerhouse is so popular in spring, when everything seems to brighten up and awaken.
One of my personal all-time favorite recipes with lemon is crispy lemon chicken. This Asian-inspired dish is the perfect combination of crunchy fried chicken texture and beautifully smooth citrus flavor.  It's the kind of dish that makes my tastebuds happy, even after the first delicious bite.
While some Chinese restaurants that I've been to have been okay at making this lemon-infused chicken dish, the crispy lemon chicken that I find to be the best and most flavorful is the one my mom used to make for me as a kid. Luckily, I recently came across this recipe for the Best Crispy Lemon Chicken and it's so close to the one my mom used to make, it's unbelievable!  I made this dish for my own family and everyone was raving!  Here's how to make it in your own kitchen:
Best Crispy Lemon Chicken Recipe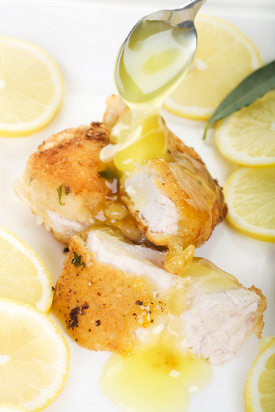 Ingredients:
1 tablespoon corn starch
1/4 cup lemon Juice
1 grated lemon rind
1 1/2 cups chicken stock
1 teaspoon grated ginger
1 tablespoon brown sugar
2 egg whites
1/2 cup corn meal
1/2 cup flour
2 tablespoons water
3/4 pound chicken tenderloins
2 tablespoons oil
chopped spring onion for garnish
Instructions:
Mix corn starch with the lemon juice. Mix the lemon rind, stock, ginger, brown sugar, and corn starch mixture together in a saucepan.
 Bring to the boil and cook for 1 minutes. Set aside while preparing chicken.
 Lightly beat together the egg whites and water. Then mix together the flour and cornmeal. Dip the chicken in the egg white mixture, and then in the flour mixture to coat evenly.
 Heat the oil in a wok or frying pan and fry the chicken until the juices run clear.
 Pour over the lemon sauce and served garnished with chopped spring onion.
What people are saying about this recipe:

"I just made this and it is delicious!! I used a real lemon versus store bought juice and I thought it had a great lemon zing to it. I placed the chicken over jasmine rice and drizzled the sauce on top and it couldn't have been more perfect!!"
"After actually eating this I must say it was GOOD!!!! … I also threw the balance of the flour/cornmeal from the plate into the oil/butter after the chicken cooked and when i threw the lemon sauce it made it nice and thick."
I'm curious: Which do you prefer… lemon chicken or orange chicken?
Latest posts by RecipeLion
(see all)