With the heat of summer beginning to bear down on us, we're all looking for ways to cool off. We flock to the beach, to pool parties, and maybe even turn on the lawn sprinkler (desperate times call for desperate measures!). And when it's hot out and you're hungry, the last thing you want to eat is a heavy meal. So, I bring you Summer Salads! Made with fruit and lettuce and topped off with light dressing, each and every one of these salads is perfect for warm summer weather. They're easy to throw together at any time during the day, and they're so tasty that you'll never want to spring for poolside food again.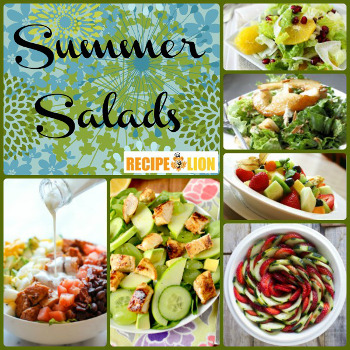 RecipeLion has a great collection of easy summer salads that you must check out. Sometimes it's a fruit salad, sometimes it's a green salad, but they're always delicious. Take the Strawberry Cucumber Salad, for example. It is ridiculously easy. There are literally two ingredients: strawberries, and cucumbers. Top it off with a dressing made of honey and balsamic vinaigrette, and you have the easiest lunch you'll ever make!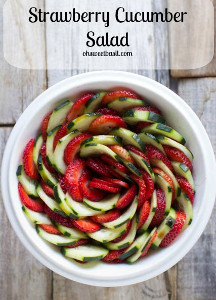 Next, let's check out a salad that has a few more ingredients, but is still incredibly light and tasty. This Green Juice Salad has all green ingredients, from the vegetables to the fruit. The dressing consists of honey and lemon, the perfect combination of sweet and tart. It's a fun salad that will satisfy any appetite. This picture has chicken included in the salad, but feel free to go green and eat it without as well!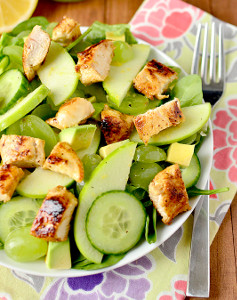 And then, there's the classic summer salad: fruit salad. Piled high with all your favorite fruits, fruit salad is an easy and delicious option for any hot summer day. Try out the recipe for Fresh Fragrant Fruit Salad. Just look at all that juicy goodness!

More Salads to Love:
Refreshing Orange Summer Salad
Pear and Goat Cheese Salad with Toasted Almonds
Quick and Very Easy Fruit Salad
But RecipeLion isn't your only source for great summer salads. Check out these other bloggers and their fabulous salad recipes!
Even More Salads!
Sugar Snap Pea Spring Salad by Samantha from Sweet Remedy
Cranberry-Avocado Salad with Candied Spiced Almonds and Sweet White Balsamic Vinaigrette by Chris from The Café Sucré Farine
Fruit Salad with a Citrus and Honey Syrup by Natasha from Natasha's Kitchen
What's your favorite Summer Salad?
Latest posts by RecipeLion
(see all)