I love loaded baked potatoes. Bacon, cheese, green onion, and potato – what's not to love? If you have a soft spot for this "loaded" side like I do, then you're going to love what I have for you. Loaded potato casseroles have been growing in popularity lately, and for good reason. They take everything we love about loaded potatoes and put it into a casserole, allowing you to serve more people without any extra effort. I am very excited to share the following three recipes with you, all of which come from AllFreeCasseroleRecipes.com.
Loaded Potato Casseroles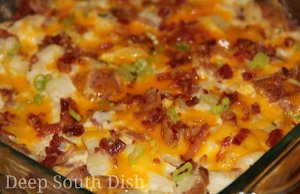 Let's start with a classic: Cheesy Loaded Twice Baked Potato Casserole. Just look at that picture. Don't you just want to eat it up? Start by baking the potatoes by themselves, and then bake them again once they are loaded with bacon, butter, sour cream, Cheddar cheese, and green onion. My, my, my. What a wonderful combination!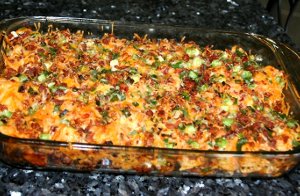 This version takes a side dish and makes it a main course by adding chicken. Not only does it have the same great toppings as the previous recipe, but it also includes buffalo chicken.  Loaded Potato Buffalo Chicken Casserole is pretty easy to prepare and is "loaded" with flavor. Get that bottle of hot sauce ready and prepare to dig in!
If you like the idea of a loaded potato and chicken casserole but prefer mild food to hot, then you'll like Loaded Baked Potato and Chicken Casserole from the blog, My Sweet Little Steiner Family.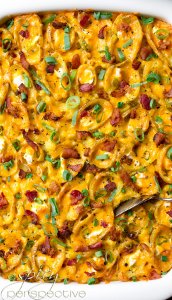 My last recipe for you is Baked Potato Skins Mac and Cheese. Yes, you heard right. This dish, this wonderful, wonderful dish, begins with a layer of homemade macaroni and cheese mixed with bacon and green onion. Then potato skins, filled with cream cheese and Cheddar cheese, are plopped on top to create the most amazing crust. My mouth is watering just writing about it. Doesn't this sound like the perfect dish for a game day celebration…or tonight?!
Which recipe is your favorite?
Latest posts by AllFreeCasseroleRecipes
(see all)