When Jessica Simpson gave birth to her son, Ace, in June 2013–just a little more than a year after delivering daughter Maxwell–it was time to get serious about eating healthy and shedding the extra pounds she had put on following two consecutive pregnancies. After bidding a fond farewell to some of her favorite snacks and calorie-laden meals (like fried chicken and mashed potatoes), she turned to an easy egg recipe for help. Jessica Simpson's Get Skinny Breakfast is a recipe she used to help her lose 8 pounds in just 2 weeks.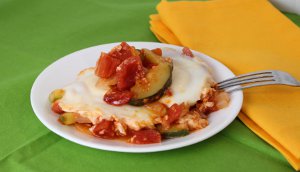 And it's actually really easy to make. While Jessica's recipe advises users to use ramekins for proper portion control, but this can easily be turned into a breakfast casserole recipe if you're cooking for a family.
We made her recipe in our test kitchen, and we have to say, it was quite tasty. But with eggs, cheese, and hearty vegetables, how can you not be satisfied?
Props to Jessica Simpson too. With the help of this recipe, and several others, she's strutting 60 pounds lighter these days. Cheers to cooking and living healthier, and for great recipes to help get you there.
What's the hardest part about losing weight for you?
Latest posts by FaveHealthyRecipes
(see all)