We know when we see a good thing. When we saw Averie Sunshine's 110-Calorie Mozzarella Sticks, we knew she was onto something great.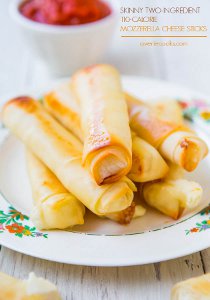 She took a traditionally deep-fried appetizer, eliminated the frying component, replaced the breading with an egg roll wrapper, and replaced regular mozzarella cheese with low-calorie mozzarella cheese. Genius, right? We were so inspired by this simple idea that we thought we could also make this with other cheeses for other purposes. Not only is this a great option as an appetizer, we thought we could also experiment with lunch ideas and late-night snacks.
Try this idea with low-fat or low-calorie cheddar cheese for our version of 2-Ingredient "Grilled" Cheese Dippers. Dipping these delectable (and low-calorie) cheese sticks into a warm bowl of tomato soup is delightful, and has way fewer calories than your traditional grilled cheese sandwich. We promise this will curb your salty cheese craving and still let you enjoy tomato soup the way you like to. Swap-outs like these really make eating healthy much easier.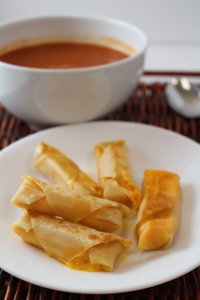 You can also make this recipe with wonton wrappers for smaller versions and serve as an appetizer or late-night snack for any party.
We also tried variations of these recipes by adding other supplemental ingredients in the wrapper. Small chunks of tomato and basil make a great pizza-flavored cheese stick, while apple slices make an awesome companion in the grilled cheese wrap. Experiment with whatever flavors suit your taste buds, but we have to warn you, stay away from anything that's too watery. The more liquid that's placed inside the wrapper, the more likely it is that the wrapper will burst open in the oven. We've learned from experience, trust us.
Special thanks to Averie for inspiring such an easy, and budget-friendly recipe to us and to our readers. She's got all kinds of easy recipes on her site. You can check out more of her healthy recipes here.
How would you serve these awesome little cheese sticks?
Latest posts by FaveHealthyRecipes
(see all)