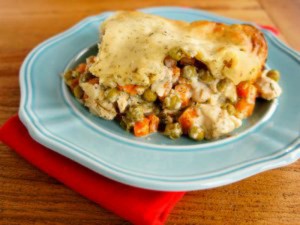 This guest post comes to us from Featured Foodie Andi Gleeson. Andi is a busy mom of two little boys and the author of The Weary Chef, a food blog where she shares easy recipes and weekly dinner menus. Please stop by to say hello, and you are sure to find some dinner ideas while you are there!
As a big fan of ranch dressing, this Magic Chicken Ranch Casserole was love at first bite. I can't wait for you to try the creamy, tangy filling topped with a tender crust. I'll get to the magic part in a moment, but first:
Have you ever wondered why it is called ranch dressing? I didn't know what tangy salad dressing had to do with herding cattle, so I looked it up. Turns out Hidden Valley Ranch was a real place where this recipe was created in the 1950's. It is now the most popular salad dressing flavor in the US but virtually unheard of in the rest of the world!
Enough history, now let's talk about magic. How else can you explain a thin, simple batter puffing up like a popover when baked? This easy popover casserole does amazing things in the oven! You won't believe me until you see it puff up beautifully before your eyes. Then you'll know how it got its name! This chicken ranch casserole recipe is a must-try!
Magic Chicken Ranch Casserole
Ingredients:
1 lb. boneless, skinless chicken breasts, diced

a few pinches of kosher salt
freshly ground black pepper
4 oz. reduced-fat cream cheese
16 oz. bag frozen peas and carrots (or your choice of mixed vegetables)
8 oz. reduced-fat sour cream
1 oz. packet of ranch seasoning mix or 3 tbsp. a homemade version like this one.
1 small bunch of green onions, thinly sliced (about 1/4 c.)
1 c. milk
2 eggs
1 tbsp. vegetable oil
1/4 tsp. garlic powder
1 tsp. dried dill
1/4 tsp. kosher salt
1 c. all purpose flour
Instructions:
1. Preheat oven to 400 degrees F. Spray a 9 x 13″ baking dish with cooking spray and set aside.
2. Spray a large skillet with cooking spray and heat over medium-high heat. Add chicken to hot skillet, and sprinkle with a couple pinches of salt and black pepper to taste. Saute until mostly cooked on the outside, about 5 minutes.
3. Add cream cheese, and stir until melted and chicken is coated. Stir in frozen vegetables, and cook 3 minutes, stirring frequently.
4. Turn off heat, and add sour cream, ranch mix, and green onions. Stir well to combine, and transfer chicken and vegetable mixture to the prepared baking dish.
5. In a medium bowl, whisk together eggs, milk, vegetable oil, dill, garlic powder, and 1/4 tsp salt. Add flour, and whisk for about a minute until smooth. Pour batter evenly over chicken mixture.
6. Bake in preheated oven for 40-45 minutes, or until topping is puffy and starting to brown. (The puffing happens at the end, so don't worry if it still looks pretty flat for the first half hour or so!).
Hungry for more? Check out our collection of chicken casseroles, 151+ Easy Chicken Casserole Recipes: The Best Casserole Recipes with Chicken!
BONUS chicken casserole recipes + SURPRISE FREE eCookbook!

What is YOUR favorite thing to dip into ranch dressing?
Latest posts by RecipeLion
(see all)