Do you believe in magic? When it comes to recipes, we definitely believe in magic. From magic cake recipes, to more easy dishes that seem too good to be true, these magical recipes will make you a believer too!
What gives magic cake recipes their name is the fact that from one batter, they bake into cakes that have three distinct layers. We also love recipes for layered magic bars, and pretty much any Christmas cookie recipe is magical in our mind. If you're still unsure on whether food can be magical, make sure to check out our Magic Healing Soup recipe below, plus more magical recipes!
We call this soup "magic" because it's a healing recipe that is packed with good-for-you ingredients to help you feel better. Whether you're fighting off a cold or simply want a bowl of something that will warm you up all winter long, Magic Healing Soup is the recipe for the job. Try it today!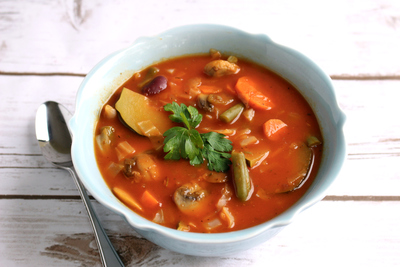 Ingredients
1 small onion
2 cloves garlic, minced
1 (8-ounce) package sliced mushrooms
3 carrots, peeled and chopped
1 zucchini squash, diced
2 cups green beans (frozen or fresh)
1 (14-1/2-ounce) can kidney beans, drained and rinsed
3 cups cabbage, shredded
2 (14-1/2-ounce) cans chicken broth
3 cups tomato juice (V-8, homemade, or store bought)
1 (8-ounce) can tomato sauce
2 teaspoons Italian seasoning
salt and pepper, to taste
Instructions
In a large pot, saute onion, garlic, mushrooms, carrot, and celery until soft – about 5-10 minutes. Add remaining ingredients to the pot and stir to combine.
Bring to a boil, then reduce heat and simmer for 30-40 minutes. Taste the soup and adjust for seasoning. Serve hot.
Slow Cooker Instructions:
In a pan on the stovetop, saute onion, garlic, mushrooms, carrot, and celery just until soft – about 5 minutes. Add to the slow cooker with remaining ingredients and stir to combine.
Cook on HIGH 2-3 hours.
Notes
This makes a large amount of soup, perfect for freezing. To freeze, simmer the soup for 20-30 minutes, just so the vegetables are slightly undercooked. Cool soup completely, then transfer to Ziplock bags. Freeze bags on a cookie sheet for about an hour, then layer the bags in your freezer once frozen.
Magic Cake Recipes
More Magical Recipes
If you had to label one food as "magic," what would it be? Tell us in the comments below!
Latest posts by RecipeLion
(see all)