I cannot tell you how excited I am about AllFreeCasseroleRecipes' current giveaway. We are giving away a Bake Pan Starter Kit from the Duff Goldman by Gartner Studios product line. The name Duff Goldman may sounds familiar to you because he was the star of the Food Network's television show, Ace of Cakes. Gartner Studios provided a sample of the starter kit for me to review, and I had a blast doing it. Once I'm done telling you all about my cake baking adventure, I'll tell you how you can win one for yourself (and trust me, you are definitely going to want one of these).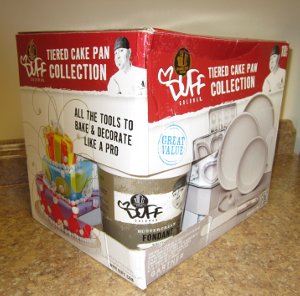 When I received the Duff Goldman by Gartner Studios Bake Pan Start Kit in the mail, I couldn't wait to start baking. So, I got to work the next day. Step one: open up the box and discover all that's inside. This kit contains 3 round cake pans, an icing spatula, cake tester, buttercream fondant, fondant smoother, 12 piece fondant cutter set, and icing bags. It felt like Christmas morning. Seriously.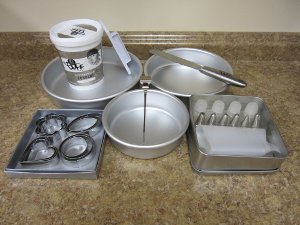 Step two: bake the cake. I used one box of Duff Goldman's Red Velvet cake mix to fill one 9-inch and one 8-inch round cake pan.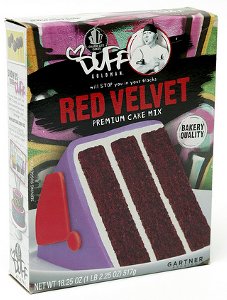 Before and after pictures:
Once the cake was done baking and fully cooled, it was time to decorate. I used Duff Goldman's Not Your Bagel's Cream Cheese Frosting. My intern and I divided the frosting in half, making one half pink and one blue. After the cakes were frosted, I wanted to dig in. However, we weren't finished yet. As I mentioned above, fondant is included in this baking kit, and I wasn't about to pass that up. I had never used fondant before, so this was especially exciting for me. We rolled it out and cut out shapes using the fondant cutting set. Once we put our shapes on our cakes, then they were finally complete.
The finished product:
We will be giving away one Bake Pan Starter Kit from Duff Goldman by Gartner Studios. The contest ends on October 20, so enter today. You can enter once daily and earn bonus entries by sharing the contest on social media sites. Good luck!
What is your favorite type of cake?
Latest posts by AllFreeCasseroleRecipes
(see all)