It may not quite be a tropical paradise where you are yet (it's a breezy 50 degrees in Chicago as I sit here typing this!), but that doesn't mean you can't take a warm tropical escape.  All you need are a few choice fruits, your oven and an hour or two devoted to baking up a dessert vacation!
One of my favorite things to do when I'm baking is to play with different flavor combinations, seeing which ingredients pair well together and coming up with new tastes that I never would have dreamed up before. That's sort of how I felt when I was making this Mandarin Orange Cake the other day. It's an unexpected combination of flavors and ingredients, but everything just comes together so well that it's almost as if these tastes were meant to be together. The fluffy Cool Whip frosting with the surprise addition of vanilla pudding and crushed pineapple inside, plus the butter cake mix with mandarin oranges baked right into the batter… it's the most intensely sweet and sensational burst of flavors in every single bite. It really is like a tropical party on your plate!
As we head into the warm weather months, I figured now was as good a time as any to dig this fan-favorite easy cake recipe out of our archives and share it with you all again.  It's a great spring and/or summer dessert that's perfect for parties, family get-togethers or just an after-dinner treat.  Give it a try… you know you want to!
Mandarin Orange Cake
By: Featured Foodie Tina Butler
Ingredients:
For the Cake:
1 (18.25-ounces) butter recipe cake mix
1/2 cup vegetable oil
1 can (15-ounces) mandarin oranges, undrained & seperated
3 eggs
For the Frosting:
1 can (8-ounces) crushed pineapple, undrained
1 (3.4-ounces) box of vanilla instant pudding mix, (or French vanilla)
13 ounces Cool Whip whipped topping, (thawed)
Instructions:
For the Cake:
Preheat oven to 350 degrees F.
Add the cake mix, oil, eggs and mandarin oranges with liquid to a large mixing bowl. Place a few of the mandarin oranges aside for garnish. (about 6-8 segments).
Mix together the cake ingredients using an electric mixer. Pour into two greased and floured round cake pans.
Bake at 350 degrees for 30 minutes until golden brown and the cake springs back. Remove from oven and let cool in pans 10 minutes. Remove from pans and cool completely on a baking rack. Frost when cakes are completely cooled.
For the Frosting:
Prepare the frosting by adding the dry pudding mix and un drained pineapple together and mix with a spoon.
Fold in cool whip until well blended. Frost both layers and sides of cake. Garnish with remaining mandarin orange segments. Keep cake refrigerated before serving.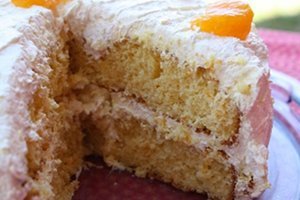 What's your favorite recipe to make with cake mix?
Latest posts by RecipeLion
(see all)