Print This Post
If you step into the home & garden section of any store right now, you'll likely see a huge display of mason jars. For the last couple years, mason jars have ruled spring! They're cheap, simple, and have so many uses. I'm sure you've seen some mason jar crafts, but are you familiar with mason jar recipes? There are so many tasty meals you can make in mason jars!
Besides being trendy and cute, mason jar recipes have the added appeal of being completely transportable. You can bring a lunch without a bag! Layering ingredients in a mason jar helps to keep them fresh, no matter what kind of recipe you're making. That means it's easier than ever for you to eat healthy. Another benefit over Tupperware is that you don't forget what's in there – you can see it all in the glass! Easy to clean, easy to transport –  They're perfect for work, on-the-go meals, picnics, and more.
Since our last mason jar recipes round-up, we've gained a lot more on RecipeLion.com! This trend is still going strong. We tend to love mason jar desserts the best! Just layer your favorite dessert flavors in a jar for a better-than-ice-cream remix. Trust us, it will change your life.
Here's an updated collection of our favorite mason jar recipes. Give 'em a try and let us know what you think of this trend that's become a way of life.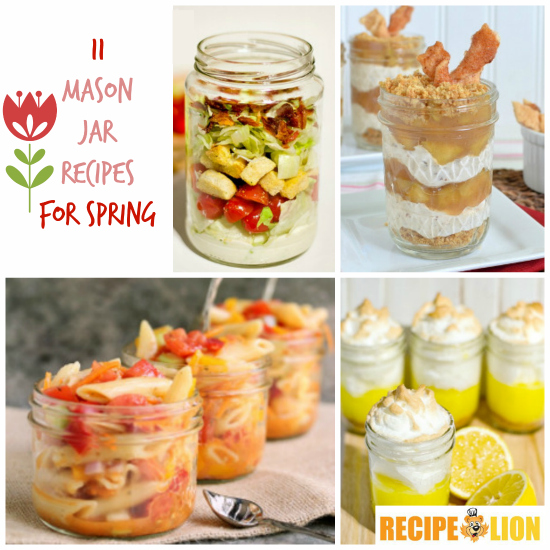 11 Mason Jar Recipes for Spring
Mason Jar Recipes for Lunch
Mason Jar Recipes for Dessert
Have you tried mason jar recipes yet?
RecipeLion is dedicated to the best recipes and cooking tips. From quick and easy dinner recipes to new and exciting dessert recipes, we find and deliver the best recipes from all over the web. Plus, we feature free product reviews and giveaways of all the latest and greatest products including cooking gadgets, cookbooks, food, and more. RecipeLion is a wonderful online resource for cooks of all skill levels.
Latest posts by RecipeLion (see all)
Print This Post