Just updated with BONUS food trend recipes!
Mason jars have been a bit of a trend for a while now, peaking right alongside the "go green" movement.  I mean hey, why not re-use that old glass jar for something handy like stashing potpourri, organizing office supplies or serving party beverages in cute, decorative cups?  There are tons of things you can make using old, recycled jars, but what I want to talk about today is eating out of jars.
You know how your mother always insisted on eating the "right" way, off of a plate, with a napkin placed squarely in the center of your lap?  Well, all that is going right out the window with the latest food trend of deliciously creative mason jar recipes.  These are dishes that are meant to be served and eaten in jars… no plate required.  How fun is that?
If you want to hop on board the mason jar trend, just check out the interesting and tempting recipes I was able to dig up below.  These dishes are the perfect thing to bring to a party or potluck, or simply to serve at your next family get-together.  With just about everything — from cake to taco dip — available in easy-to-prepare, individually portioned mason jar servings, this unique food trend is as practical as it is funky and fun.  Once you try one of these unexpected and unconventional mason jar recipes, you'll be hooked.
Mason Jar Recipes to Make Right Now:
1) Lazy Lasagnas, via AllFreeCasseroleRecipes.com – Who knew you could cook lasagna in a jar?  Just slip a tray of pasta-filled jars into your oven and in 35 quick minutes you'll have adorable and delicious individual lasagnas.  Kids will love these fun pasta "cups" and you'll love how easy they are to make!
2) Mason Jar Strawberry Shortcake, via Recipes We Love – A dessert classic gets a trendy twist with this fun strawberry shortcake recipe.  With layers of diced angel food cake, sliced strawberries and a sweet whipped cream mixture, this dessert has all of the drool-worthy components of the cake you know and love, but is served in fun, individual containers.  No more worrying about getting your "fair share" – with these jarred cakes, you'll get to enjoy your very own strawberry shortcake delight!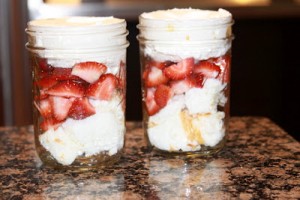 3) Layered Bean Dip in a Jar, via Savvy Mom – Bean dips are standard party fare, so what better way to make them than in a handy, portable jar?  This recipe features all the traditional ingredients of a Mexican bean dip (sour cream, avocado, tomato, black beans and cheese), but is cleverly packaged in a mason jar so it becomes the perfect on-the-go snack.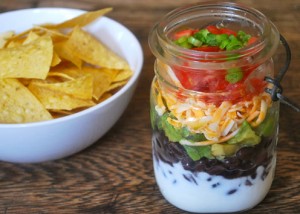 4) A Jar of Shepherd's Pie, via AllFreeCasseroleRecipes.com – It may not look like your traditional shepherd's pie, but it sure tastes like one!  Swapping the usual flaky pie crust for a mason jar, this unique take on a ground beef favorite is a bit healthier than the classic but every bit as yummy!
5) Mason Jar Salads, via A New Normal – Speaking of healthy, one of the best takes on this new food trend is the idea of salad served in a jar.  You can customize the salad in any number of ways, piling all of your favorite toppings and ingredients into a jar, screwing on the lid, and then taking your leafy greens on the go as you head off to work or a picnic in the park.  One of the best parts of this dish is getting to shake everything up inside the jar right before you eat!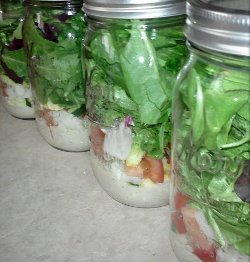 6) Microwave Carrot Cake in a Jar, via FaveHealthyRecipes.com – This sweet treat is the perfect solution for those of us who sometimes crave a slice of cake but aren't about to bake an entire cake just for one person. Made in literally one minute in the microwave, there's nothing easier than this great cake mix recipe that's meant to be made and enjoyed right out of a mason jar. Next time you get that urge for a piece of cake, just bust out this recipe and satisfy your sweet tooth the easy way!
BONUS recipes!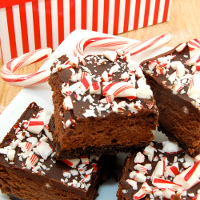 So tell me:  Would you make any of these mason jar recipes?  Which ones?
Latest posts by RecipeLion
(see all)