Father's Day is just days away. Have you thought of a way to show your love and appreciation? Instead of buying him another tie or bottle of cologne, why not cook him a delicious meal?
AllFreeSlowCookerRecipes.com has great Father's Day recipes that any dad will love. Of course, if your dad is like my dad, then he loves meat. That's why the recipes I've selected are packed with meat, ranging from bacon, to chicken, to ribs. Since these are slow cooker meat recipes, you can let the slow cooker do the work for you. With less time spent cooking, you'll have more quality time to spend with your dad. He and his stomach will thank you for these Father's Day recipes.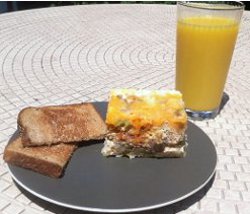 Dude Food Breakfast Casserole – Treat your dad to a slow cooker breakfast recipe with this Father's Day recipe. It's made with bacon, sausage, hash browns, and a ton of cheese. It's the perfect slow cooker casserole recipe to start his relaxing day. Plus, it cooks for ten hours. That means you can prepare it the night before so it will be ready to eat when he wakes up.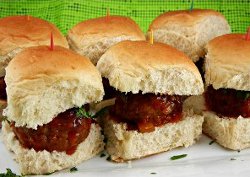 Slow Cooker Meatball Sliders with Peach Chipotle BBQ Sauce – These sliders aren't ordinary sliders.  They're perfect for a Father's Day lunch. Your dad will love the barbecue taste of this slow cooker meat recipe. He'll also love that it's a variation on the classic meatball sandwich with a summery twist.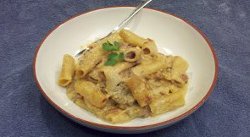 Bacon Cheeseburger Mac – What's great about this Father's Day recipe is that it tastes just like a bacon cheeseburger. It's perfect if the weather isn't on your side and your dad is in the mood for a burger from the grill. It calls for a half pound of bacon, but feel free to add as much as you want.
Meat Lovers Casserole – Any man in your life will devour this slow cooker casserole recipe, especially your dad. It's made with plenty of meat, including meatballs, ham, pepperoni, and bacon. Plus, it's packed with cheese.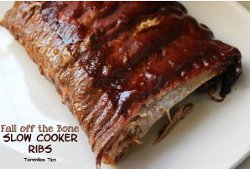 All-Day Fall-Off-The-Bone BBQ Ribs – These slow cooker ribs are finger lickin' good and super tender. It's a super easy slow cooker meat recipe because it only takes five ingredients to make them. Even if don't have a lot of time, you can definitely pull off this recipe. Your dad will love these ribs smothered in barbecue sauce.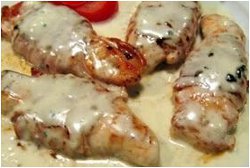 Sour Cream and Bacon Slow Cooker Chicken – When bacon is involved, a recipe becomes a great candidate for a Father's Day recipe. It's meat stacked on top of meat. Nothing could be more perfect. It cooks all day, so you can go fishing with your dad or watch a baseball game and come home to a delicious meal.
Put your pots and pans away and let your slow cooker do the cooking while you spend time with your dad. He'll appreciate these slow cooker meat recipes and the fact that you cooked them.
Be sure to visit AllFreeSlowCookerRecipes.com for more meaty meals and check out our collection, Cooking Ideas for Father's Day: 20 Father's Day Slow Cooker Recipes.
What's your dad's favorite dish?
Latest posts by AllFreeSlowCookerRecipes
(see all)