It's everybody's favorite three-day-weekend! Time to drive away to whatever mini-vacation awaits you, whether it's a family cookout or a camping trip. It's so nice when that smoky BBQ smell drifts over to you, or you first catch sight of that long table covered in delicious potluck dishes. From potato salads to deviled eggs, it doesn't take long for tasty potluck recipes to fill your plate. Good thing you can go back for seconds!
What do you normally bring to a potluck? Whether you bring the chips and drinks or you have a ~famous~ potluck recipe, it's time to change it up. Variety keeps things interesting! And if you bring the same dish every year, your friends and family will appreciate it more after a break.
If you need another reason to try a new Memorial Day recipe, look no further than our delicious selection from RecipeLion.com and friends. There are so many twists on old favorites, like these Potato Salad Bites. It's a great way to make your potluck more exciting while keeping those flavors everyone looks forward to tasting. Tip: bring pull-apart bread and your dish will be everyone's favorite.
My family cookouts are never complete without my Uncle Rich's deviled eggs. When else do you get to snack on deviled eggs? We hunted down the perfect deviled eggs recipe for you.
Our Tips for the Perfect Memorial Day Cookout:
 Share this list with everyone attending.
Have everyone bring a dish with a different potluck recipe from this list.
Get together and FEAST like never before!
Even if someone is afflicted with potluck paranoia, they'd have a hard time resisting any of our potluck recipes for the perfect cookout.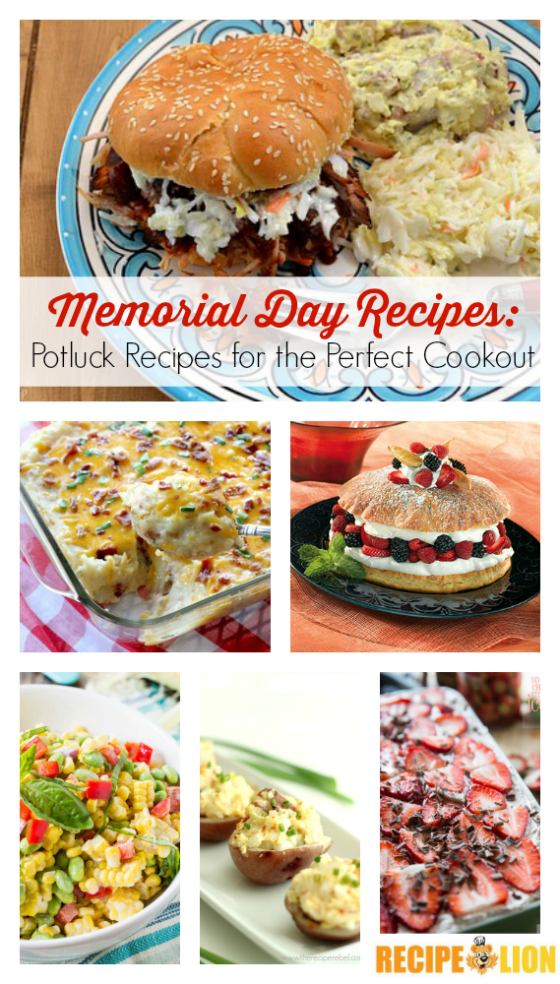 Memorial Day Recipes: Potluck Recipes for the Perfect Cookout
Potluck Recipes for Main Dishes
Side Dish Recipes
Easy Dessert Recipes
Related Posts:
What potluck recipe makes your cookout complete?
Latest posts by RecipeLion
(see all)