This guest post comes to us from RecipeLion Featured Foodie Amanda Formaro.  Thanks to Amanda for the great tips!
A menu plan is great in so many ways. It keeps you organized and makes you feel less stressed during the week. You can plan exactly what you're having each night so that you don't forget to defrost things or buy certain ingredients during your weekly shopping trip. A menu plan is wonderful, but it's only part of the dinnertime solution.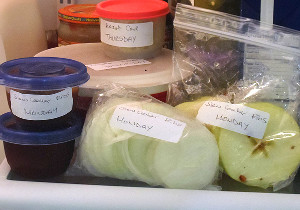 You can plan all you want, but actually making the meals that are on your plan can sometimes be a challenge in itself. How many of you have busy days that include one of more of the following?
Full or part time job that keeps you away from home for several hours each day
Household chores that pile up and must be done
Children with multiple extracurricular activities, such as dance and sports
Health appointments, school meetings and other such interruptions in your day
If you said yes to even one of the items above, a meal plan is only one part of the solution to your nightly hurdle. When you get home, tired from a long day, cooking dinner seems like one more chore on top of all your other chores. That's especially stressful if other members of the household have settled into the living room for the night and you're left to handle dinner.
Sound familiar? Well, you're definitely not alone! If you can spare a little time on the weekends, say a few hours in the kitchen, you can turn each of those recipes on your meal plan into a reality. By prepping certain things ahead of time, you can get much of the work out of the way now. This way, when you get home, all you have to do is throw things together.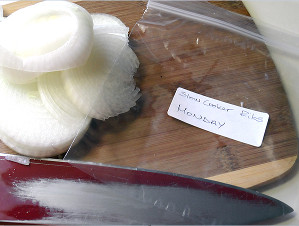 Meal planning is different than OAMC (once a month cooking). These aren't freezer meals; you're just doing a little prep work for each recipe.
So here's what you do:
Print each recipe on your meal plan and label them with the day of the week you plan to make it.
Read

completely through

each recipe as if you were making it.
Make notes on each recipe to determine what you can do ahead (chop onions, combine dry ingredients, mix liquids, etc.)
Get to work – chop, combine, mix and place in containers, labeling each one with the recipe name and day of the week.
Place items in the refrigerator/freezer with the earliest day in the front.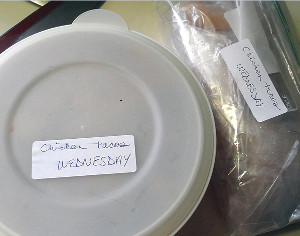 Here Are Some Examples:
To help you really see how much this can help, and just how easy it is, here are some example recipes and suggestions for what to do ahead: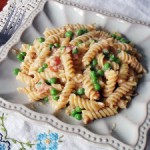 Bacon, Peas and Cheese Rotini
1. Cook and chop the bacon, store in a zipper bag.
2. Mix bacon grease with butter and oil and store in a small container.
3. Chop onion and store in a zipper bag.
4. Measure cheese and store in a zipper bag.
5. Measure peas and store in a zipper bag.
6. Label all bags and containers and store in refrigerator or freezer, whichever is appropriate.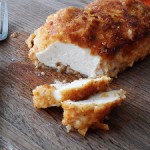 Classic Oven Fried Chicken
1. Trim fat from 4 chicken breasts and store together in a gallon freezer bag.
2. Measure and combine dry ingredients and store in a zipper bag or plastic container.
3. Label all bags and containers and store in refrigerator or freezer, whichever is appropriate.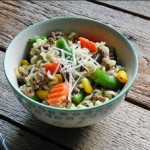 Ramen Noodle and Beef Skillet
1. Brown ground beef, drain and store in a plastic zipper bag.
2. Break up ramen noodles and store in a gallon plastic bag, drop unopened ramen flavor packets inside bag.
3. Measure out frozen vegetables and store in a plastic freezer bag.
4. Label all bags and containers and store in refrigerator or freezer, whichever is appropriate.
Storage Tips
Consider what day of the week you will be preparing each meal. For a meal you'll make in the next couple of days, storing things in the refrigerator is fine. For something you will make toward the end of the week, use the freezer and make a note for yourself to transfer it to the refrigerator a day or so beforehand.
Plastic zipper bags in various sizes are great for storing chopped vegetables and dry rubs. Glass and plastic storage containers with lids are better for liquids and are stackable.
Labeling is essential, don't depend on your memory — as sharp as it may be — to be able to identify that foil wrapped item in the freezer. Self-adhesive address labels are a great way to mark items, or write directly on plastic bags or foil with a Sharpie.
Store items in your refrigerator or freezer in order by day of the week. This makes it much easier to access your ingredients each evening when it's time to make dinner. Don't be digging behind Friday's ingredients to get to Tuesday's!
As you can see, when it's time to make dinner, much of the prep work is already done so all you have to do is assemble and cook it! Prep time is often the most time-consuming part of a recipe, so by getting it out of the way early, you are creating a less-stress home environment for you and healthy meals for your family.
For more weeknight meal ideas, check out these 30 Minute Recipes: 21 Quick & Easy Meals.
What are your meal planning and prep habits?
Latest posts by RecipeLion
(see all)