I'm not a millionaire (except in my dreams!), but that doesn't mean I can't make this delicious no-bake pie recipe from RecipeLion's most delicious cookbook yet: 103 No-Bake Desserts.
The thing that really makes this no-bake pie decadent is the addition of edible pearls. My grandmother always said that pearls went with everything, but who knew that food was also included in that?
Don't know what you'd make this Millionaire Pie Recipe for? How about a bridal or a baby shower? I think all of your guests would just go crazy for these cute pies.
Millionaire Pie
Yields: 1 pie | Serves: 6-8 | Prep time: 10-15 minutes | Chill time: 3 hours or overnight
Ingredients:
1 cup sweetened flaked coconut
1 (15.25-ounce) can crushed pineapple, drained
1 cup maraschino cherries, stemmed, drained, and chopped
1/2 cup chopped walnuts
1 (14-ounce) can sweetened condensed milk
1/3 cup lemon juice
1 tablespoon maraschino cherry juice
1/2 teaspoon coconut extract
1 cup freshly whipped heavy cream, plus extra for serving
4 ounces mascarpone cheese, at room temperature
1 store-bought (or homemade) graham cracker crust
Whole maraschino cherries, pecans, sweetened flaked coconut, pineapple, silver sugar pearls for garnish
Instructions:
In a large bowl, combine the flaked coconut, pineapple, maraschino cherries, walnuts, condensed milk, lemon juice, cherry juice, and coconut extract.
Whisk together the whipped cream and mascarpone cheese until combined and smooth.
Gently fold the whipped cream-mascarpone mixture into the cream cheese mixture.
Spread the mixture into the crust.
Refrigerate the pie for 3 hours or overnight.
Top with the garnishes and serve.
Variation: Pour into mini prepared pie crusts.
Looking for more delicious no-bake desserts? Then you're in luck because you can have RecipeLion's cookbook 103 No-Bake Desserts at your fingertips. It's available to order from Barnes & Noble and Amazon, so don't wait to order your copy!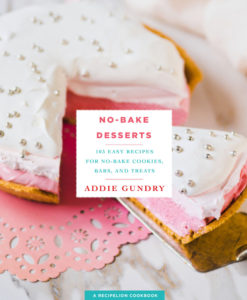 Latest posts by RecipeLion
(see all)