You can pull together a sweet, indulgent breakfast casserole in a matter of minutes with the help of refrigerated crescent roll dough. Topped with crunchy candied pecans and oozing with gooey caramel filling, this Praline Crescent Roll Casserole is a special brunch recipe that your family and friends will adore!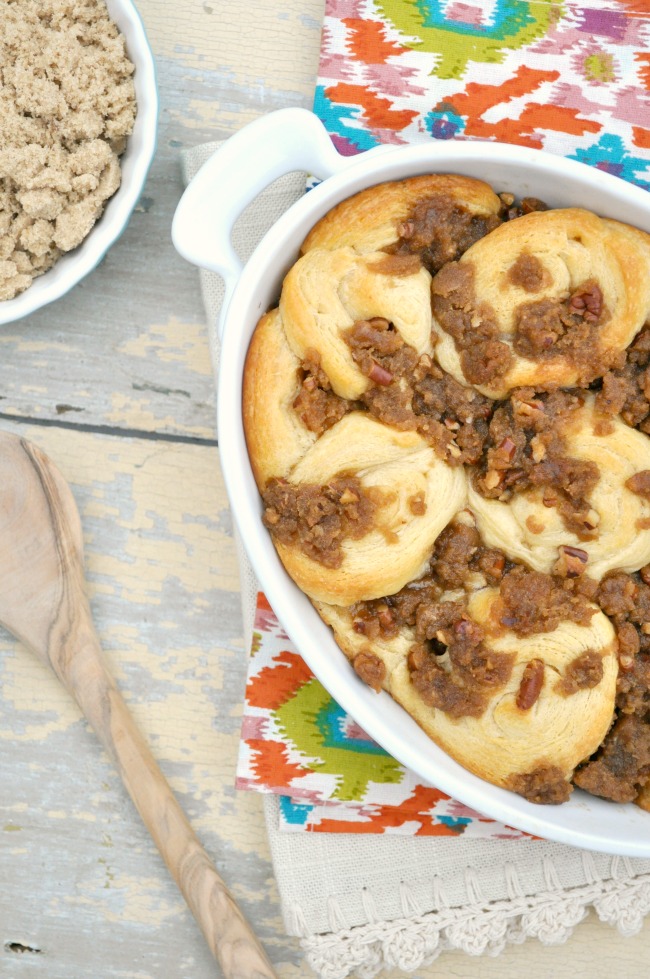 Hi, there! I'm back today from The Seasoned Mom with another delicious and very easy recipe to share with you.
In my mind, there's nothing better than a tried-and-true family recipe that dates back to our childhood and reminds us of the comforts of home. So imagine my excitement when my mom was recently cleaning out her files and came across her entire recipe collection – complete with handwritten recipe cards from her friends, her sister, her godmother, and various acquaintances from the past 40 years! It's like a goldmine of inspiration for a food blogger and recipe developer like myself! Plus, I just love the nostalgia of sifting through these retro recipes, some that make me laugh, some that make me smile with fond memories, and others that make me wonder why she ever bothered to save them!
Recipes from the Past
Today's little gem is one of my mom's long-lost recipes. She called it Caramel Crescent Rolls, but I changed the name slightly because I thought that Praline Crescent Roll Casserole just described the dish a little bit better. Sure, there's some ooey, gooey, delicious caramel tucked in the crevices between each little roll; however, the crispy, candied pecan crust that forms as the dish bakes is just as special! It's the combination of the praline topping and the oozing caramel inside that really creates a drool-worthy treat.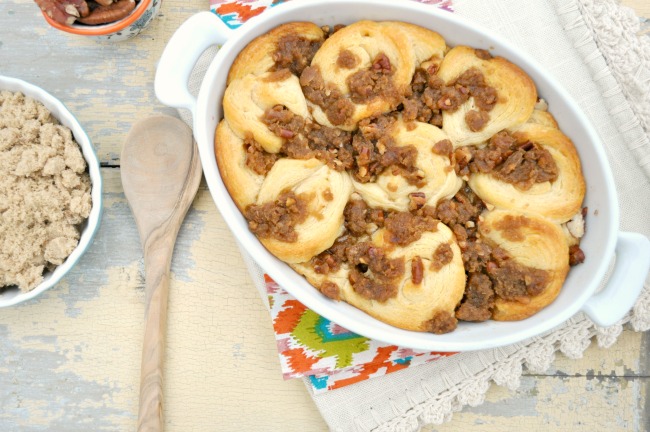 Simple breakfast casseroles like this are the perfect addition to a holiday or weekend brunch. We also like to enjoy them during the week sometimes when we change things up and have "breakfast for dinner." Serve this sweet treat alongside a savory egg dish like Martha's Breakfast Casserole or this Farmer's Breakfast Casserole and your family will leave the table with very happy and very full bellies!
This Praline Crescent Roll Casserole comes together very easily, but I thought that it might be helpful to show you how I slice the crescent roll dough since it can be tricky to describe in words!
How to Slice the Crescent Roll Dough
You want to start by removing each roll of dough from the package, but be sure that you do NOT unroll the dough as you normally would if you were making a traditional crescent roll.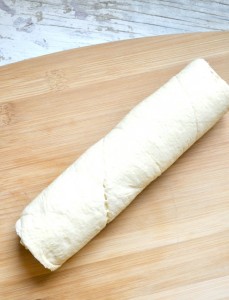 Instead, slice the roll of dough in half: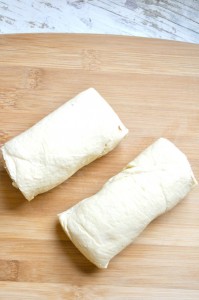 and then cut each half into 8 small pieces. They will look like little pinwheels!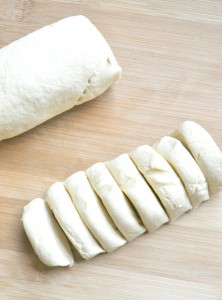 Then you can layer the pinwheels in the dish with the pecans and sauce, as described in the recipe below. Bake it for about 20 minutes and serve it warm. You will not be disappointed!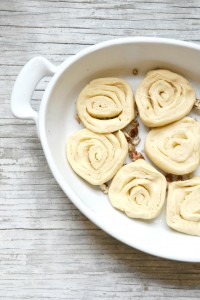 Mom's Praline Crescent Roll Casserole
Serves 8
Prep: 10 mins
Bake: 15-20 mins
Level of Difficulty: Easy
Ingredients:
½ cup butter
½ cup chopped pecans
1 cup brown sugar
2 tablespoons water
2 cans refrigerated crescent roll dough
Instructions:
Preheat oven to 375 degrees F.
Melt butter in a small saucepan.
Spray baking dish with non-stick spray and sprinkle with about 2-3 tablespoons of the chopped pecans. Set aside.
Add remaining pecans, brown sugar, and water to the melted butter. Heat to boiling, stirring regularly.
Meanwhile, remove crescent roll dough from can — DO NOT unroll. Cut each long roll in half. Cut each half into 8 sections.
Arrange 16 slices in the prepared pan, separating each pinwheel slightly to allow the caramel sauce to seep inside.
Spoon half of the caramel sauce over the dough. Repeat with another layer of remaining dough and then pour the remaining sauce over top.
Bake for 15-20 minutes, or until golden brown and dough is cooked through.
Allow to cool for a few minutes before serving.
What are some of your favorite ways to take advantage of refrigerated dough? Any other good shortcuts to share?
On her blog The Seasoned Mom, Blair Lonergan documents life with her husband and three boys in Central Virginia's Piedmont countryside. She shares the simple activities that entertain her little ones, as well as the easy, nutritious, and family-friendly recipes that her kids devour!
Latest posts by Blair Lonergan
(see all)