RecipeLion is no stranger to eCookbooks, but we've just created perhaps our most special one yet. We teamed up with 17 amazing food companies to create The Best Dinner Recipes, Delicious Desserts & More: 20 Must-Have Recipes free eCookbook, which is filled with over 50 pages of delicious recipes.
We'd like to give a shout out to the brands that made this eCookbook possible: Blendtec®, Goose Island® Beer Co, Gourmet Cooking Online, Hamilton Beach®, Kellogg's®, Klondike Brands®, La Preferida®, Mullen Foods, Naturipe® Farms, Neat®, PB Crave™, Pearls® Olives To Go!, Pigchaser™, Sheila G's Brownie Brittle™, Smart Grillin', Swiss Diamond®, and Zoye®. Without them, this eCookbook wouldn't be what it is today.
I'm sure you have a few favorites in the list above. I'll tell you a little about what you'll find in the eCookbook below, but if you just can't wait to see what La Preferida® or Goose Island® Beer Co have in store for you, then feel free to download the eCookbook right now.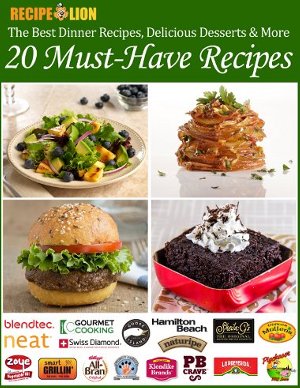 Sneak Peek:
When you open up this eCookbook, the first thing you see will be salads. And what better salad to start with than a broccoli salad? Kellogg's Broccoli Salad (p. 6) has a delicious citrus dressing that may just make this your favorite broccoli salad recipe.
If you scroll down a little further, you'll stumble upon Swiss Diamond's Summer Herbed Vegetable Frittata with Smoky Goat Cheese (p. 24). This colorful frittata recipe is filled with healthy ingredients that makes this one good-for-you dish.
On page 30, you'll find Officer Mullen's Chicago's Finest Pork Roast. This recipe uses applesauce to add flavor to the roast. If you haven't tried that before, then try it right away.
The eCookbook wraps up with desserts. If you like decadent cheesecakes (I will never understand people who don't), then check out PB Crave's Cheesecake (p. 51). The chocolate cookie crust, creamy filling with peanut butter chips, and peanut butter topping are an irresistible combination. I had a piece of this cheesecake (ok…two pieces) last week, and it was fantastic.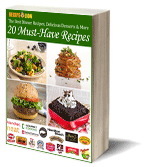 Discover the other amazing recipes in this eCookbook by downloading it for free.
 The Ultimate Food Lover's Grand Prize Giveaway
You could win big this month. Besides daily giveaways (running now through August 6), we are also running a month-long Grand Prize giveaway through August 13. The Grand Prize consists of every item given away in the daily giveaways. Items include: Blendtec Designer 725 High-Speed Blender, 6 Quart Programmable Stovetop Slow Cooker, 10.25-inch nonstick fry pan with lid, two mixed cases of Brownie Brittle in four flavors, and much more. See the complete list of items in the Grand Prize.
Latest posts by RecipeLion
(see all)