We don't know about you, but as soon as October hits, we've run straight into baking season. From cookies to cakes to brownies to pies and more, the hardest part is finding the time to make it all! And when it comes to choosing which of these treats to bake, cookies top the chart. Not only do you get to snack on the cookie dough (our favorite part!), but the whole house smells tantalizing delicious while giving you a snack on the go.
That's why we thought we'd share some of our favorite cookie recipes to make this fall. All of them are made with the Mr. Food Test Kitchen's signature "Quick & Easy" cooking style, so you have more time to make a second batch! Plus, at the end, we'll tell you all about our Christmas cookie contest where your Christmas cookie recipe could be featured on TV.
7 Must-Make Cookie Recipes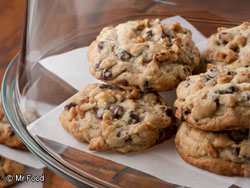 This recipe for Famous Hotel Chocolate Chip Cookies is by far our most popular chocolate chip cookie recipe… and we can see why! Put away those ready-made mixes 'cause this one is made from scratch, just like Grandma would have done.
Listen up, banana bread fans, 'cause we've got the ultimate cookie recipe for you. We're proud to introduce our Banana Bread Bites that are just as soft as your favorite homemade bread. Plus, we've added some chocolate chips to make this easy cookie recipe simply irresistible.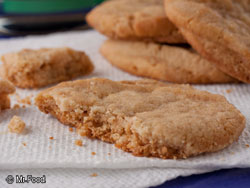 Nothing says "homemade" quite like a fresh-baked batch of peanut butter cookies, wouldn't you agree? Pair these Double Peanut Butter Cookies with a tall glass of milk and a classic movie, and you've got yourself a cozy night in.
That's right; we're making cookies out of cake mix. We hope you're just as excited as we are. These Cake Mix Cookies only take 10 minutes to bake and has that chocolate-y flavor we love. What's not to like?
Grab some oats out of the pantry for this recipe for Easy Oatmeal Cookies. They're softer than the average oatmeal cookie which is why we love 'em so much! Plus, since they have oats, we think you could sneak a few in for breakfast.
Fall is the time for cinnamon which means it's snickerdoodle time! Our Cake Mix Snickerdoodles make it that much quicker to get those delectable fall cookies. Watch out, or you might just eat every last one!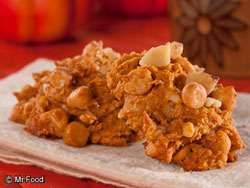 We couldn't possibly leave out pumpkin this fall, could we? Our Pumpkin Scotchies are a portable alternative to your favorite pumpkin pie. We've added a few butterscotch chips too, which complement the pumpkin flavor perfectly.
Bonus! Your Christmas Cookie Recipe Could Be On TV!
We love spreading Christmas cheer by baking up batches of our festive Christmas cookies, and we bet you do too. The Mr. Food Test Kitchen is looking to feature some of your original Christmas cookie recipes in an upcoming eCookbook. Plus, the recipe voted as the #1 Christmas cookie recipe will be featured on our Mr. Food Test Kitchen TV segment! Hurry—entries are due on October 21st. Click here to find out more!
We want to know! What's your all-time favorite Christmas cookie?
Latest posts by MrFoodTestKitchen
(see all)