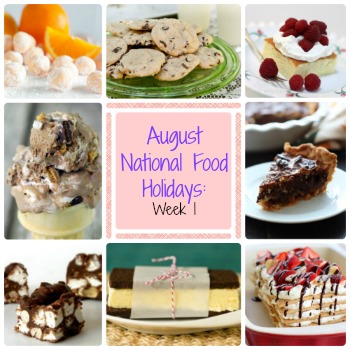 Did you know that we have an entire day dedicated to cherry popsicles? How about rice pudding? I'm going to guess that you had no idea those days existed. Well, grab your notebook because you're going to learn so much over the next four weeks! Throughout the course of August, I'll be posting weekly blog posts on the national food holidays for the upcoming week. Each week will feature at least seven unique recipes that correlate with the national food holiday for that specific day.

Now, I know you're asking yourself… "What am I going to do with this information?"

I'm glad that you asked!  Here is a list of reasons why you should know more about the national food holidays.
1. Match your baking and cooking experiments with the national food for that day.
2. Impress your friends, family, and co-workers with the information.
3. Have some great small talk topics available for your use.
4. Be more Patriotic.
5. Gain more (somewhat useless) knowledge.
6. Scare strangers as you run up to them and wish them a "happy 'insert food here' day".
7. Become an authority on national food holidays.
8. Convince your boss that you need a day off to celebrate your favorite food.  


Okay, I'm running out of ideas as to why this is all important to you. I think the main reason is that it's fun! So enjoy these first seven recipes for the first seven days of August. You'll find a new blog post next Friday.
August 1st: IPA Day
August 2nd: National Ice Cream Sandwich Day
August 3rd: National Watermelon Day
August 4th: National Chocolate Chip Cookie Day
August 5th: National Oyster Day
August 6th: National Root Beer Float Day
August 7th: National Raspberries in Cream Day
Looking at the first week of National Food Holidays, which recipe is your current favorite?



Latest posts by FaveGlutenFreeRecipes
(see all)