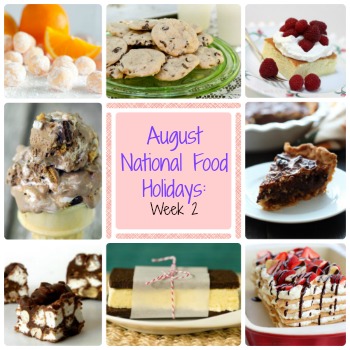 Welcome back to the second National Food Holidays blog series!  Last week we went through the first seven days of August, and I gave you some of my favorite recipes to help you celebrate the national food holiday for each day.  This week, I'll be continuing onto the next seven days (August 8th-August 14th).
If you're insanely confused, it probably means that you've missed last weeks blog post.  Not to worry! Check out here to get caught up on the National Food Holidays.
For a shortened version, here's a recap of my current project: Throughout the course of August, I'll be posting weekly blog posts on the national food holidays for the upcoming week. Each week will feature at least seven unique recipes that correlate with the national food holiday for that specific day.  The blog posts will be available each Friday.
So, get excited everyone, because we have some amazing recipes coming up this week!
August 8th: National Zucchini Day
National Zucchini Day
Recipe of the Day: Skinny Zucchini Crisps
This day will be perfect for any avid gardener.  By this point in the season, you'll be wondering what on earth you're going to do with all of your fresh zucchini.  These Skinny Zucchini Crisps are the perfect recipe for you.  You can enjoy these crisps as a snack, appetizer, or side dish.  This healthy recipe will be sure to please everyone, but no one will guess that this snack is healthy because this zucchini recipe is absolutely delicious.
August 9th: National Rice Pudding Day
National Rice Pudding Day
Recipe of the Day: Slow Cooker Creamy Peach Mango Rice Pudding
I wouldn't call myself a rice pudding fanatic by any stretch of the imagination. Typically, I avoid rice pudding because I don't believe that rice should be included in a dessert. After trying this recipe, I am a recent convert.  This Slow Cooker Creamy Peach Mango Rice Pudding is to die for. The fruity flavors mix perfectly in this creamy dessert.  It's the perfect recipe for this national food holiday.
August 10th: National Banana Split Day/National S'mores Day
Bear with me. August 10th double dips on the national food holidays, and I couldn't decide between a delicious banana split and my favorite s'mores.  So, instead of limiting this day to one amazing recipe, you'll have two amazing recipes! You can decide to make one or the other, or you can try your luck with both recipes.
National S'mores Day
Recipe of the Day: Flourless S'more Cookies
Summer wouldn't be the same without roasting some marshmallows over the camp fire. Now, your traditional s'more is turned into a gooey and delicious Flourless S'more Cookie. You can make these from the comfort of your kitchen, and this s'mores recipe is perfect when the weather isn't behaving as you'd like.
August 11th: National Raspberry Tart Day
National Raspberry Tart Day
Recipe of the Day: Raspberry Tarts
This may be one of my favorite day this week. Although I'm saying that off-record because I very well may switch that title in an hour.  Currently, the National Raspberry Tart Day has a slight lead on the other contenders.  You'll especially love this day if you decide to make these simply, sweet Raspberry Tarts.  Not many people can resist these adorable desserts, so grab your apron and celebrate this national food holiday.
August 12th: Julienne Fries Day
Julienne Fries Day
Recipe of the Day: Spiced & Baked Parsnip Fries
Fries are a classic side dish that finds its way in the most popular restaurants.  You may have never heard of Julienne Fries, but it simply means that the fries are cut into long, thin strips. Sometimes, you'll hear them referred to as shoestring fries.  You've probably snacked on Julienne Fries hundreds of times without even knowing their true name.  Now you can give these fries the recognition they deserve  by making these Spiced & Baked Parsnip Fries.
August 13th: National Filet Mignon Day
National Filet Mignon Day
Recipe of the Day: Filet Mignon au Vin
August 13th is getting fancy.  You could find this Filet Mignon au Vin in the classiest restaurant imaginable, but you won't need to spend big bucks making this homemade dish.  Your family will love when you tell them that they'll be having filet mignon for dinner.  Pair this recipe with asparagus or brussel sprouts to make this a hearty meal.
August 14th: National Creamsicle Day
National Creamsicle Day
Recipe of the Day: Orange Creamsicle Balls
You'll fall in love with this national food holiday.  These Orange Creamsicle Balls are my kid's absolute favorite. It seems that every time I make these treats, they disappear in less than an hour after putting them on the table.
Side note: August 14th is my sister's birthday! She'd kill me if I didn't give her a brief shout-out.  I'm insanely jealous of her national food holiday. Mine unfortunately lands on National Roast Leg of Lamb Day.  My day is definitely not as exciting as National Creamsicle Day.
After two weeks of National Food Holidays, which recipe is your current favorite?



Latest posts by FaveGlutenFreeRecipes
(see all)