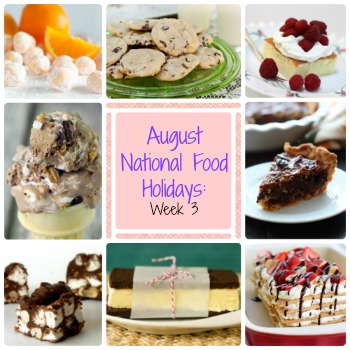 We're back again for another edition of August National Food Holidays. It's week three, and hopefully you've had the opportunity to try some amazing recipes.  We have some really exciting recipes coming up for the 3rd week of August. So, sit back, relax, and enjoy these amazing food holiday recipes.
Note: If you are super confused, I am posting weekly blog posts on the national August food holidays for the upcoming week. Each week will feature at least seven unique recipes that correlate with the national food holiday for that specific day.  The blog posts will be available each Friday.
If you missed the previous posts, don't worry! We have you covered.
Click HERE for the 1st week of National Food Holidays.
Click HERE for the 2nd week of National Food Holidays.
August 15th: Julia Child's Birthday/Lemon Meringue Pie Day
August 16th: Bratwurst Day/National Rum Day
August 17th: National Vanilla Custard Day
August 18th: National Soft Ice Cream Day
August 19th: Potato Day
August 20th: Lemonade Day
August 21st: National Pecan Torte Day
Which is your favorite food day this week?
Latest posts by FaveGlutenFreeRecipes
(see all)