Last weekend, I attended the National Gluten Free Conference and Expo in Pasadena, California. Although this may have been my first gluten free conference, it definitely won't be my last. Between the conference, the expo, the people, and the food… my experience was amazing!
Not only am I going to share my thoughts on the conference and expo, but I'm also going to share my gluten free goodies that I received at the event. To win this gluten free prize pack, simply comment on this page! One winner will receive: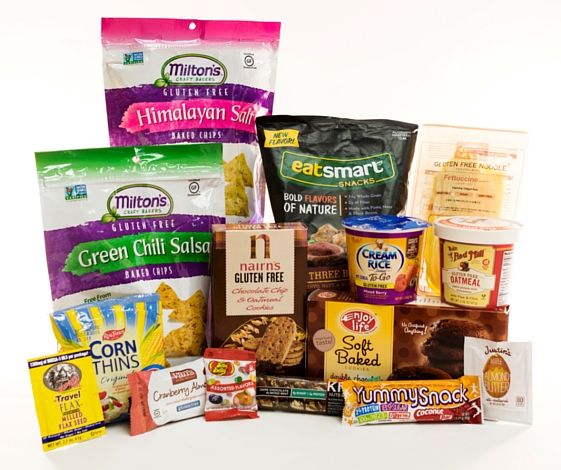 Enjoy Life Soft Baked Cookies
Milton's Himalayan Salt Baked Chips and Green Chili Salsa Baked Chips
EatSmart's Spicy Black Bean Tortilla Chips
Nairn's Gluten Free Chocolate Chip & Oatmeal Cookies
Bob's Red Mill Gluten Free Oatmeal
Cream of Rice Instant Hot Cereal To-Go
Gluten Free Meister's Gluten Free Fettuccine Noodle
Plus samples from RealFoods, Kind, Hodgson Mill, Yummy Snack, Justin's, and Van's
The comment contest will run from Friday, May 6th to Wednesday, May 18th. The winner will be notified on Thursday, May 19th.

The Conference 
From Dr. Peter H. R Green and Ms. Rory Jones's presentation on "Gluten Exposed: The Science Behind the Hype and How to Navigate to a Healthy, Symptom-Free Life" to Ms. Emily Luxford and Ms. Janelle Smith's presentation on "Dine with the Dietitians: Trends in Gluten-Free Nutrition", there was a lot to learn. Saturday was packed full of informative speeches that talked about the medical research being done to cure Celiac Disease as well as how to manage your gluten free diet both in and out of the home. Stay tuned for more gluten free posts as I work through all of the information I gained! I'll also be posting gluten free tips and tricks at FaveGlutenFreeRecipes, so expect to see things like 10 Ways to Prevent Cross Contamination, A Beginner's Guide to a Gluten Free Diet, and What to Use Instead of Flour.  
The Expo
There's nothing better than a room full of companies giving away free samples of gluten free food, products, and coupons. After making one round, I can tell you that my bag was filled to the brim with gluten free goodies. The expo gives the gluten free community an opportunity to try new products without having to buy it first. If you love it, you can buy the product right then and there. If you weren't crazy for it, then you could move on to the next booth.
The People
From gluten free beginners to gluten free experts, it seems that the conference and expo were perfect for everyone. The beginners gain key tips and tricks to starting a gluten free diet and the experts learn what's new in medical advancements.
At my table, I met a woman whose son had been diagnosed with Celiac Disease just two months prior. She and her family were at the conference to learn more about the disease, and they were excited for the expo to try the many gluten free products.
In contrast, I met another woman whose mother and two sons had been diagnosed with Celiac Disease years ago. This was her 10th year attending the National Gluten Free Conference, and each year she returns to learn what's new.
The Food
Not only did you walk away with bags full of free samples, but attendees also received a gluten free breakfast and lunch. There's not many events where a gluten free individual can eat from a buffet worry-free. Although the food may have been gluten free, you wouldn't have known that from the taste. The food was delicious!
All in all, this weekend was full of good times, good food, and good fun. I heartily recommend that you attend the 2017 National Gluten Free Conference. You definitely won't regret it!
What's one thing you would tell a gluten free diet beginner? 
Comment below for a chance to win a prize pack from the gluten free expo!
Official Rules:
There is a maximum of one entry per person. The entry will be based upon a comment left on this blog post. Duplicate comments will be deleted and are not tallied.
The winners will be selected at random from the comments on this blog post.
Winners will be announced here on the blog as well as contacted by the email address provided.
You have until Wednesday, May 18, at 11:59pm EST to leave your comment on this blog post. Comments posted after that will not be counted.
Contest open to anyone 18+ in US.
Latest posts by FaveGlutenFreeRecipes
(see all)