Welcome to the official start of fall! We here at FaveSouthernRecipes absolutely adore autumn. Every year I look forward to warm beverages, cool days, and changing leaves. As soon as September rolls around, I start demanding that all of my desserts be apple flavored.
When it comes to pumpkin-flavored foods, I am a little more patient…But not by much. It seems like the infusion of pumpkin spice into our lives begins earlier and earlier every year. Now that it's officially autumn, however, I say bring on the pumpkin!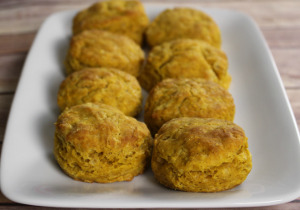 Last week I spent some time in the test kitchen making a heavenly new recipe for Pumpkin Buttermilk Biscuits. The combination of pumpkin and biscuits may sound strange, but believe me when I tell you that this is one seriously good (and easy) biscuit recipe. It didn't hurt matters that I also made some homemade cinnamon butter to spread on the hot biscuits.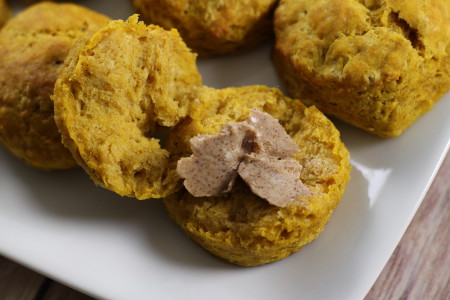 All of the taste testers raved about how good these biscuits are—one even said that these were better than her grandmother's biscuits! I'm not sure I would go that far, but I will say that these pumpkin biscuits are pretty darn good.
Ingredients
2 cups all purpose flour

3 teaspoons baking powder

1/2 teaspoon baking soda

3/4 teaspoon salt

2 tablespoons brown sugar

1 teaspoon pumpkin pie spice

1 stick unsalted butter, frozen

1 cup pumpkin puree

2/3 cup buttermilk
How-To
For the full recipe for Pumpkin Buttermilk Biscuits (plus how to make cinnamon butter!), be sure to visit FaveSouthernRecipes.com!
Did you know that September is National Biscuit Month? For more easy biscuit recipes, be sure to check out this collection of 7 Biscuits Recipes!
What is your favorite fall flavor? Tell us in the comments below!
Latest posts by FaveSouthernRecipes
(see all)