Thanksgiving is the most all-American holiday after the Fourth of July. Every year, families gather to each other's homes and sit down to share a wonderful meal with each other. Food is the center of this holiday. Many people would argue that Thanksgiving is nothing without good food. Those who suffer from Celiac disease should never feel left out of this holiday that encompasses the entire nation. Everyone should be able to sit down at the table and not worry about getting sick from gluten. Which is why we've compiled this amazing, FREE eCookbook, 11 Gluten Free Thanksgiving Menu Ideas.
We've complied a whole buffet of dishes that are perfect for a gluten-free Thanksgiving. From wonderful side dishes such the tart and sweet Homemade Cranberry Sauce (pg. 16) and Fancy Green Beans (pg. 13) to delicious desserts like Pumpkin Pie Mousse (pg. 23) and Pumpkin Spice Cupcakes (pg. 21), you will find everything you need to build your perfect Thanksgiving menu. With these recipes, no will be left out of the eating festivities; everyone will be able to sit down together and enjoy a big Thanksgiving dinner.
Download your free copy of 11 Gluten Free Thanksgiving Menu Ideas today and get started planning out what you are going to serve to your family and friends as they gather around your table for Thanksgiving dinner. These printable recipes will come in handy if you are traveling to someone's house for the festivities, too. You will be able to bring a gluten free side dish to the dinner for everyone to enjoy.
Here's a sneak peek of what you'll find in this free eBook:
Mashed Potato Stuffing
Take the two best side dishes from your Thanksgiving dinner table and combine them with Mashed Potato Stuffing. This savory dish has the creamy consistency of mashed potatoes while maintaining the intricate textures that make every bite of stuffing interesting.
Maple Mashed Sweet Potatoes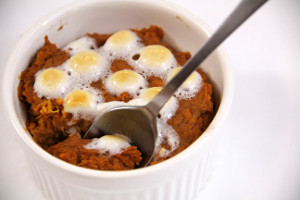 This Maple Mashed Sweet Potatoes recipe is perfect no matter when you make it – even for breakfast. Maple syrup gives this dish a really great flavor; the maple brings out the natural sweetness of the potatoes. Marshmallows on the top add wonderful pockets of sugar that really complement the rest of the dish as do spices like ground cinnamon and nutmeg.
What's your favorite Thanksgiving Day dish?
Latest posts by FaveGlutenFreeRecipes
(see all)