When we think of Easter, we tend to think of bunnies, colorful eggs, and brunch. I can't give you a bunny or Easter eggs, but I can give you great recipe ideas for brunch. It is with great pleasure that I present the newest eCookbook from AllFreeCasseroleRecipes, 11 Recipes for Easter Brunch. It's filled with 20 pages of recipes with eggs, recipes with ham, recipes for quiche, and bite-sized recipes; all of which are well-suited for your Easter menu.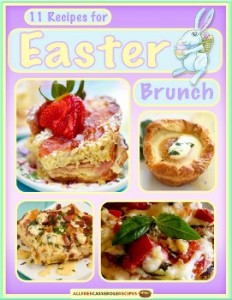 The first chapter is dedicated to eggs. Do you think Eggs Benedict is too complicated to serve to a crowd? Not anymore. Our Eggs Benedict Casserole (p. 6) allows you to do it with ease. It has all of the same ingredients – eggs, Canadian bacon, English muffins, and a Hollandaise sauce – but is much simpler to make. You can prepare the dish the night before and simply make the Hollandaise sauce while the casserole is baking. The recipe is easy yet impressive, and is totally Easter-worthy.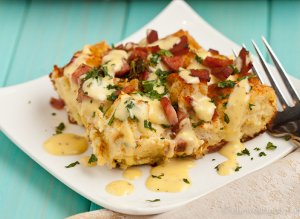 Ham is a traditional meat served at Easter, so we of course included ham recipes. There are three most delightful recipes with ham that are sure to be instant hits. Monte Cristo Easter Brunch Casserole (p. 10)  is the first recipe in this chapter. It uses honey ham as well as smoked turkey. Again, this is another example of a classic dish turned into a casserole.
Besides recipes with egg and ham, 11 Recipes for Easter Brunch also includes quiches and bite-sized dishes. Download your free copy to discover all that this eCookbook has to offer. It's never too early to start planning your Easter brunch menu, so download 11 Recipes for Easter Brunch today and prepare the best holiday brunch ever.
Latest posts by AllFreeCasseroleRecipes
(see all)