Cutting out high-calorie and high-sugar drinks from your diet can help you lose and keep off unnecessary weight. Changing what you drink to healthy beverages is an easy way to cut calories from your diet. FaveHealthyRecipes.com has put together the 14 Best Healthy Drink Recipes that are easy to make and are the most nutritious for you. Drinking your way to a healthier lifestyle has never been easier. From smoothies, to party drinks, even every day drinks, the free printable eCookbook is your guide to healthier new drinks. Each drink recipe is filled with all-natural ingredients that will keep you satisfied. You can now get all the necessary vitamins and minerals you need through some of these homemade drink recipes.
It is important to keep in mind the types of drinks you are consuming. Sodas and fruit juices can add up and you soon will be have too high of sugar and calorie in-takes. Once you try one of these 14 Best Healthy Drink Recipes you will realize how much better tasting and refreshing healthy drinks can taste. These drinks are easy substitutes to the drinks you are drinking now. No matter the meal or time of day you will find a drink recipe that fits your needs. Quenching your thirst with the best healthy drinks has never been so easy. For more satisfying and healthy drinks check out FaveHealthyRecipes.com
Here's a sneak peak of what you can expect with this free eCookbook: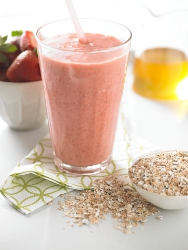 Berry-nana Whole Grain Smoothie
Smoothies do not get anymore satisfying than this. The Berry-nana Whole Grain Smoothie is the perfect breakfast to help jump start your day. Filled with strawberry and banana flavors you will not be able to put this smoothie down. It also contains whole grains that will help keep you full throughout the whole morning. Finally, a satisfying breakfast that allows you to make it through the mornings without your stomach growling.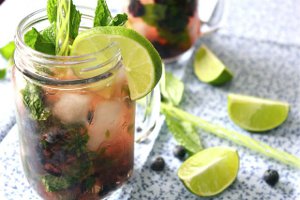 Blueberry Mojitos
This is one of the best party drinks that all your guest will love. The Blueberry Mojitos are easy to make and are lighter than your traditional mojito recipes. With half the sugar, you can enjoy these delicious and refreshing party drinks guilt free. Spice up your party and watch as this homemade drink recipe make your party a success.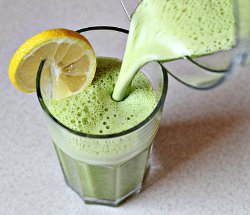 Detox Smoothies
With fresh spinach and ginger, this is one of the best detox smoothies out there. This is easy to make and makes for the perfect mid-day snack. It will keep you filled until your next meal. This homemade drink recipe is a great way to get more healthy veggies in your daily diet. One of these smoothies a day will definitely keep the doctor away!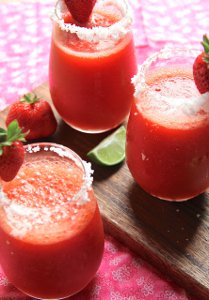 5-Ingredient Frozen Strawberry Margaritas
Margaritas are also a fun party drink that everyone loves. But most often than not these adult beverages are filled with high-calories that no one enjoys. This drink recipe for 5-Ingredient Frozen Strawberry Margaritas is easy to make and healthy enough that you can finally enjoy a margarita without all the guilt. This is the perfect party drink that will sure please all your guest.
To find even more healthy and satisfying homemade drink recipes check out the latest free eCookbook, 14 Best Healthy Drink Recipes. Download your eCookbook today!
A special thanks to Val from Val So Cal, Dorothy Delaney from Raw Food Blog, Laura from Gluten Free Pantry, and Petra from Zoom Yummy for all their recipe contributions to this eBook.
What's your favorite healthy drink? Let us know in the comments below!
Latest posts by FaveHealthyRecipes
(see all)