We all like to save money where we can. Reducing what we spend on food and meal preparation is a good place to start–particularly, because we all need to eat, and food costs are continually on the rise. At AllFreeSlowCookerRecipes.com, we've come out with a brand new (and FREE) eCookbook filled with budget slow cooker recipes to help making cooking on a budget fun and easy. In our free eCookbook, Cooking on a Budget: 12 Slow Cooker Budget Dinner Recipes, you'll find a variety of ways you can make thrifty dinner recipes for every season.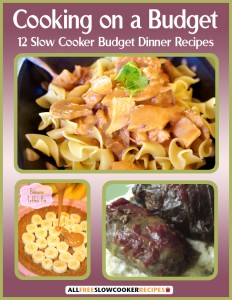 In our free eCookbook, Cooking on a Budget: 12 Slow Cooker Budget Dinner Recipes, you'll find ideas for budget appetizer recipes, budget dinner recipes, and budget dessert recipes. These inexpensive slow cooker recipes are cheap to make, but they don't skimp on taste. We've included budget-friendly versions of many recipes we already know are our readers' favorites, such as cabbage rolls, cheesy chicken, and more.
Budget Appetizer Recipes: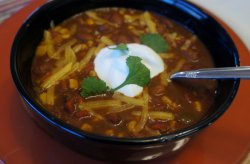 In our free budget eCookbook, our first chapter covers budget appetizer recipes–some of which, can also double as slow cooker main dish recipes. For instance, you'll want to be sure to check out our recipe for Dollar Store Kickin' Chili (shown above), which is made from ingredients solely found in a dollar store. This chapter on budget appetizer recipes also includes ideas for how to use leftovers, such as ham.
Budget Dinner Recipes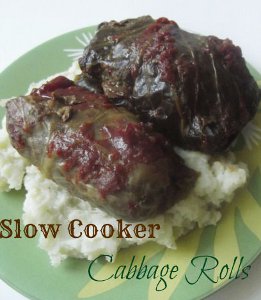 Our budget dinner recipes chapter in our free eCookbook is varied and packed with tasty ideas. Whether you're in search of budget chicken recipes, budget casserole recipes, budget pasta recipes, or even budget-friendly slow cooker ground beef recipes, this chapter on budget dinner recipes includes them all! From Mexican-inspired dishes such as 3 Ingredient Slow Cooker Fiesta Chicken, to down-home All-Day Slow Cooker Cabbage Rolls (shown above), you're sure to find a dish the whole family will love. Other favorites in this chapter include Thrifty Chicken Stroganoff, pizza casserole, and more. Download our free eCookbook to get all of these tasty budget dinner recipes and more.
Budget Dessert Recipes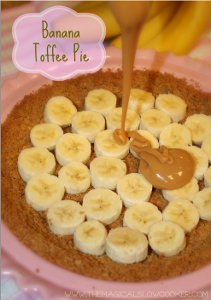 While you might be trying to cook on a budget, dessert should never be left off the menu! We all deserve a treat now and then. Luckily, the budget dessert recipes found in our free eCookbook won't put too much extra strain on your budget.  Recipes such as our Slow Cooker Banana Toffee Pie (shown above), are the perfect choice for a low-cost dessert. This slow cooker dessert recipe serves 6, and includes simple, cheap ingredients such as graham crackers and sweetened condensed milk. We've also included other fun slow cooker dessert recipes in our budget dessert recipes chapter, such as Slow Cooker Apple Dumplings and Slow Cooker Rice Krispies Treats. Download our free eCookbook to get these budget dessert recipes and more.
Download our free eCookbook, Cooking on a Budget: 12 Slow Cooker Budget Dinner Recipes, today and start cooking up some budget-friendly meals the whole family will enjoy.
What's your family's favorite budget-friendly dinner recipe?
Latest posts by AllFreeSlowCookerRecipes
(see all)