Pasta is a very versatile ingredient; there are so many different recipes you can make with it that it's hard to get bored. With this awesome new eCookbook, you will have even more creative and unique ways to prepare noodles. 9 Gluten Free Pasta Recipes You'll Love is a great resource if you are looking for amazing dinner dishes like Mac and Cheese, Pad Thai, and Baked Penne. Luckily avoiding gluten doesn't mean that you have to completely cut pasta out of your diet. Gluten-free noodles allow those who live a gluten free lifestyle to enjoy all the best pasta recipes without compromise.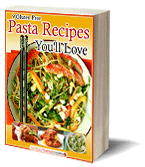 With recipes like delicious, creamy Spaghetti Squash Mac 'n Cheese (pictured left), this cookbook will give you awesome ideas on how to make great tasting recipes that are healthy. Your kids will love the creamy goodness of these mac and cheese recipes, and you will love that you that there is hidden serving of vegetables in them. Spaghetti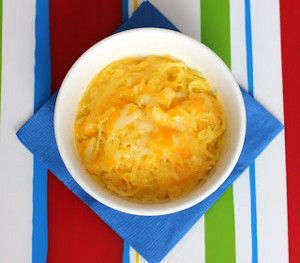 Squash Mac 'n Cheese is a great example; made with naturally sweet butternut squash, this recipe substitutes squash for the traditional macaroni so you can avoid having to search for gluten-free macaroni noodles. You can substitute the cheese for squash as shown in the recipe for Macinsquash. These gluten free pasta recipes combine nutrition with delicious flavors that are sure to make your home happy and healthy.
Asian-Inspired noodles and Italian recipes get a gluten-free make over in this great eCookbook as well. You will find some super yummy Sunbutter Noodles, which are made with delicious sunflower oil butter. This is a traditional Asian flavor recipe that will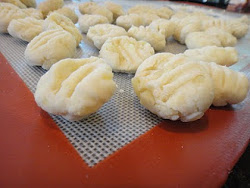 definitely make your weeknight a bit more flavorful; it's a great recipe to mix in some of you favorite vegetables. There's also a great recipe for Gnocchi (pictured right), which is a potato dumpling pasta that you can mix with pesto or marinara sauce. Prepare this great dish and you will have a great dinner recipe that the whole family will definitely enjoy.
If you're looking for a way to spice up those gluten free noodles, this eCookbook will be an indispensable inspiration for any chef. You won't believe how easy it is to transition from regular pasta to gluten-free pasta when you are making such delicious meals from 9 Gluten Free Pasta Recipes You'll Love. Just because you are living the gluten-free lifestyle, doesn't mean you have to sacrifice flavor. These awesome pasta recipes will be guaranteed to make everyone at the table satisfied. You don't need to tell them that you didn't follow the classic recipes and instead made these traditional dishes celiac-friendly.
Latest posts by FaveGlutenFreeRecipes
(see all)